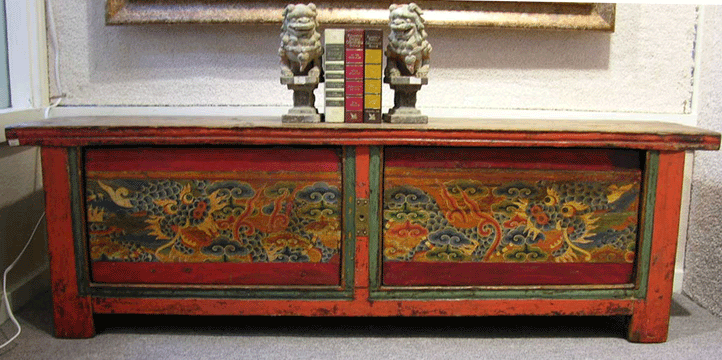 19th Century or earlier
Pine or Fir
17¾" h. 58" w. 14" d.
This cabinet is a form of "tenchog," a cabinet the surface of which can be used as a table for offerings, butter lamps, teacups and books. Each front panel depicts a rather playful dragon. It has a wonderful patina of old age. The Yak butter and the exceptional cry climate are mainly to thank for the preservation of the exquisite paintings on Tibetan furniture.
Original Tibetan antique furniture is quite rare and valuable today because during the Chinese Cultural Revolution, it became "counterrevolutionary" to have painted furniture from the "old society" in one's home, especially those displaying religious scenes or figures, so many pieces were vandalized of left to blacken in kitchens or storage sheds. In the 1900s, this furniture reappeared, brought out by Llasa and Kathmandu dealers who acted as intermediaries and sold them wholesale "as is," or they would clean them with nitro thinner to remove the grease on the furniture, accumulated there for over centuries, and sell them individually according to condition and market price. Strong demand in the world later resulted in a low supply of something already scarce.
This cabinet is all original and a treasure to collect.