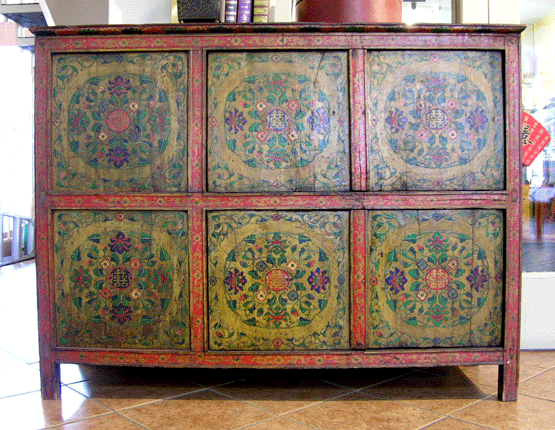 19th Century
Pine or Fir, natural mineral colors
40" h. 53" w. 17¼" d.
This is an authentic Tibetan antique chest, which is quite hard to find in Tibet today. It was probably made for a bride as the double-happiness characters and the leafy lotus designs (signifying purity) are both symbols celebrating a marriage.
This cabinet exhibits an old style of construction, with bamboo nails and tenons showing. The doors swing open and shut on wooden pegs, which fit into circular holes in the top and bottom of the door frame. The holes in the bottom are left open on one side to allow the door to be removed when it is opened at 90 degrees to the cabinet structure, and easily slotted back into place in this position.
This cabinet has a patina that can be achieved only from extended use. Traces of grease resulting from burning yak butter over a long period of time as cooking oil and as fuel in lamps are evident on the panels.