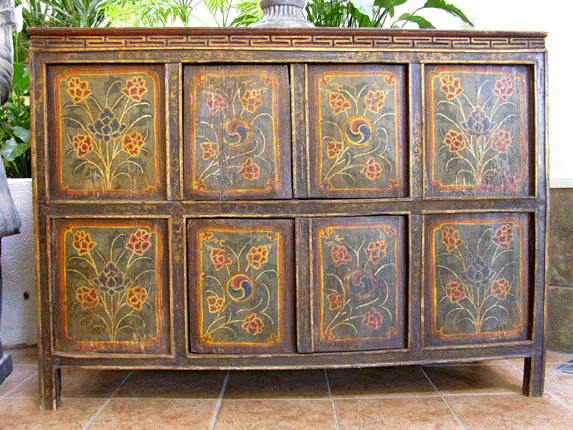 19th Century
Pine, natural mineral colors
38¾" h. x 53¼" w. x 17½" d.
The ruggedness of this cabinet is typical of authentic antique Tibetan furniture. There is no tradition of fine furniture in Tibet as there is in China due to the largely nomadic existence of the Tibetans.
The yin/yang design of the four door panels, forming by mutual interaction and completion, take on the meaning of the primal origin of the life force. The motifs most often used were things in nature such as flower and grass. The imagery and vibrant colors of Tibetan furniture reflect the warm and cheerful character of the Tibetan people and their love of flowers and nature.
Today, authentic Tibetan antiques are hard to find due to the destruction caused by the Chinese Cultural Revolution and the world demand for these beautifully painted folk objects. Many Tibetans moved to Nepal and make a living making reproductions. A real piece of antique is a treasure to collect.