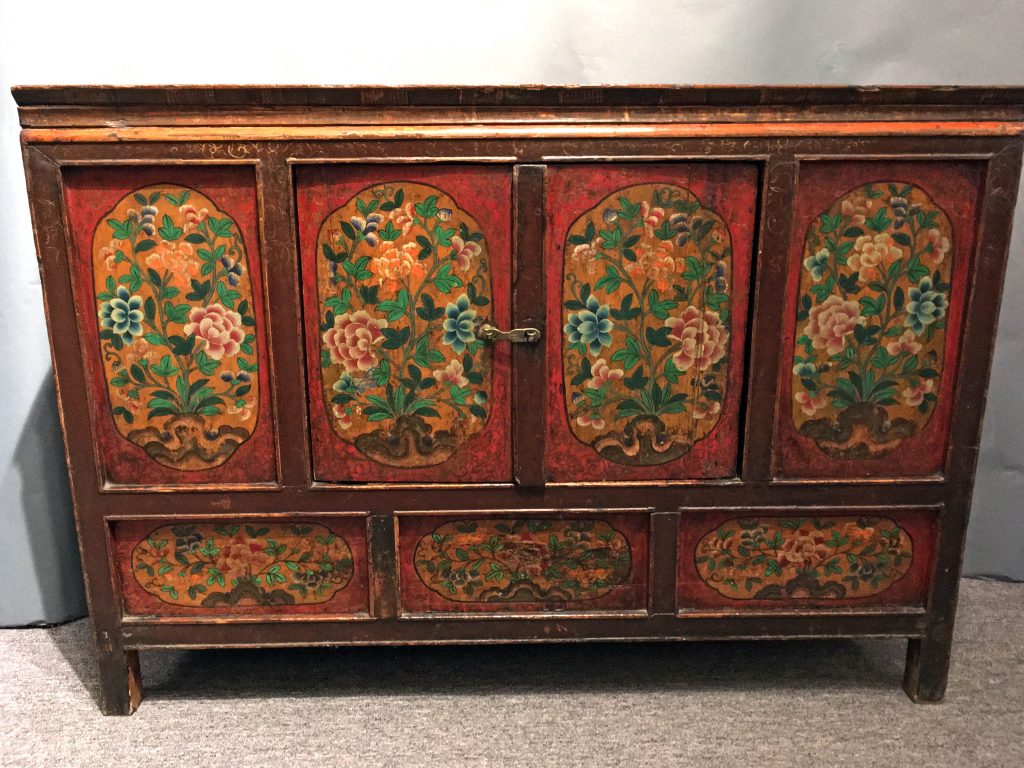 19th c, pine. Authentic antique piece; auspicious decorations painted with natural color pigments.  48.75″ w, 15.5″ d, 34″ h.
This cabinet shows traditional method of construction, revealing exposed tenons and wooden nail-heads the colorful decorations have not obscure.  The seven painted panels in front are set recessed within beaded frame members painted with gold scrolling vines.  The two middle panels at the top serve as doors that can slide out at right angle on hidden swivel hinges.  One door panel is fitted with a metal hasp that can lock to a stud on the opposite door.
The seven front panels are painted with peony flowers in vibrant colors of red, blue, and orange, with the petals edged in white.  The paintings are inside a black-lined cartouche oval with a mustard yellow background, which in turn is set against an orange-red ground within the frame of each wood panel.  Since the 19th century, due to trade and influence from China, many Tibetans prefer to have painted decorations of auspicious symbols in the hope that their particular deity might grant their personal wishes, rather than religious symbols and figures painted as offerings to gain merits to attain enlightenment for favorable rebirth.  Peony is an auspicious symbol of wealth.  The cabinet may have been made for an affluent merchant to store his personal belongings rather than religious items.
During the Cultural Revolution, "class struggle" to do away the "old society" has caused many painted furniture in Tibet to be vandalized or destroyed.  As a result, original antique furniture with good paintings is hard to find and often quite expensive.  Traces of yak butter grease on the surface proves it has lived for ages and is an authentic antique.  Colorful exotic-looking furniture looks well in a contemporary room in the West.
Price: $6900