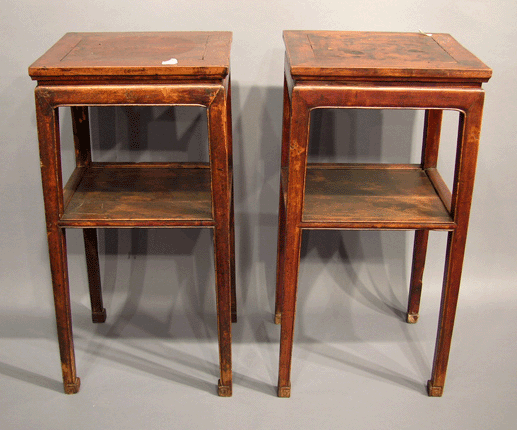 Mid Ming – Early Qing Dynasty. (Mid 17th/ Early 18th Century)
Walnut
Shanxi
32½" h. 16¼" w. 14½" d.
This pair of tables is an example of the corner-leg table, It demonstrates the traditional style of furniture celebrated during the Ming Dynasty: the lines are simple but project an elegant profile that Ming literati preferred. It is finely crafted from walnut, a wood, because of its fine texture and density, like the precious Nanmu, was prized as a furniture-making wood. The walnut furniture sourced from the Shanxi region generally demonstrates refined workmanship and with it, generally command a higher price.
The joinery and construction of this pair of tables are well-executed. The floating panel top has a molded edge and is profiled to include a slight waist section. The beaded apron below flows smoothly to join the sword-ridge shape upper part of the leg section with lapped miter and wooden nails. Each table projects a delicate and elegant profile because the narrow aprons are of the same width as the top of the legs which extend naturally down its slender length, past a mid-section shelf, and taper into decorative ribbon, or cloud-shaped feet.
The over 300-years old tables have survived quite well with its original brown lacquer intact. Some cracks occurred which appear to be from aging in a high and dry climate the Shanxi region generally experiences.