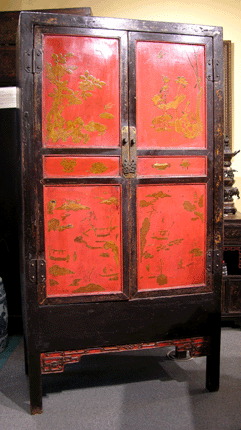 Early 18th C, Elm, Shanxi.  Thick lacquer crackled with age; faded gilt paintings and auspicious carvings show its original value.
75½" h. 39¾" w. 20" d.
This tall cabinet has decorative characteristics typical of early to mid-18th century. The black lacquer framework is finished with a decoration of either scrolling dragons or floral motifs with a "long life" character in the middle at the top. The designs are quite faded with age to be recognizable.  Each of the two tall red door panels has a black frame decorated with floral motifs, now also faded.  Each door panel is divided into three sections. The top and bottom sections are decorated with gilded "bird-and-flower" scene, and the narrow waist section with antique bronzes designs. The apron at the base is raised in relief with running chi dragons design typical of the period.
The inside of the cabinet is fitted with a two-drawer shelf unit at the top, another shelf dividing the open space below, and a lidded storage space concealed behind the long plain black horizontal panel in front.
The lock plates and door pulls as well as the boss-head hinges seem to be original.
They are decorated with openwork carvings. The door pulls have the swastika (wan) and the ruyi (symbol for granting wishes), both Buddhist motifs.
This tall cabinet is thickly lacquered on the outside as well as the inside, a sign that this was a valued piece. The thicker the lacquer coating, the more costly it is to make. The problem with thick lacquer is that it crackles easily with age, but it is more appealing to many antique connoisseurs. This cabinet is left the way it was found to preserve the integrity of this aged piece.
Price: