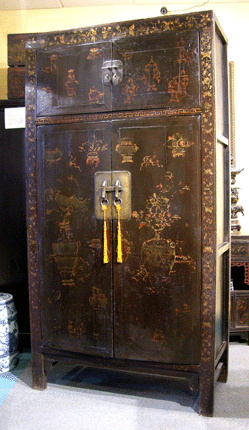 Late 17th-–early 18th Century. (Early Qing Dynasty)
Elm
Shanxi
82" h. 42½" w. 20¼" d.
This cabinet has the kind of patina only a piece this old can achieve. It is hard to find one like this in China any more as the Chinese have prospered in the last several years and they have learned the value of a good piece of antique. They are now unwilling to let go one unless they can get a high price for it. Now dealers can get mostly late 19th to early 20th century pieces, and they are not pretty! Even if a good authentic one is available, the government would no longer allow it to be exported.
This cabinet is extra tall and in one piece. It has an upper and lower compartment. The interior of the vast lower compartment has a shelf with two drawers in the middle. The drawers are of traditional dovetailing construction but they cannot deem to be of old age. The hardware there certainly looks new. The rest of the hardware is original, as is the rest of the cabinet.
The pair of doors on the upper compartment seems to have different size frame members. This is due perhaps to the fact that this is an over-size piece and required a lot of wood; so to finish the job, the craftsman just used whatever wood remains. He would have expected that several coats of lacquer would cover the seams, and at the same time provide a smooth surface for the painter. With the passage of several centuries, however, the lacquer thinned and changing climate caused the cracking along the seam lines, revealing the underlining of wood. This is all part of the aging process and actually serves to indicate to antique connoisseur that the piece has lived.
A cabinet of this dimension and decoration was obviously made for a person of prestige and wealth. The painting is gilded. The "Hundred Antiquities" design was one favored by the elite scholar class of that period. Scholars and high officials used their wealth collecting ceremonial vessels and vases, and whiled away their leisure time admiring their collection and writing poems to celebrate them, much like the old poets of the Western world wrote odes to laud a beautiful urn or pottery!
This cabinet would look marvelous in a contemporary home as its patina would provide a stunning contrast. Besides being a decorative piece, it is also a great storage cabinet.