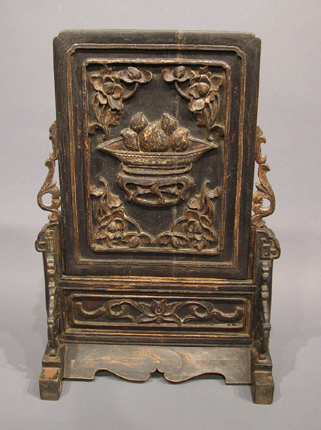 18th Century
Elm Wood, black with faded red lacquer on part of the screen
21½" h. 14½" w. 7½" d.
This screen exhibits an early traditional style and retains a thick lacquer coating that has an aged crackled surface.
It is of a two-piece construction, consisting of the screen panel inserted into the vertical supports of the base. The panel has two parts. The upper movable part has deep carving of flowers in the four corners and fruit in and antique bowl in the center. The lower panel has deep carving of a trailing flower design on the front and angular scrolls in the back. The side spandrels show two scrolling dragons. The plain front and back panels are shaped with cusped, arched profiles.
The table screen displays a wonderful patina of old age. It is quite a rare find.