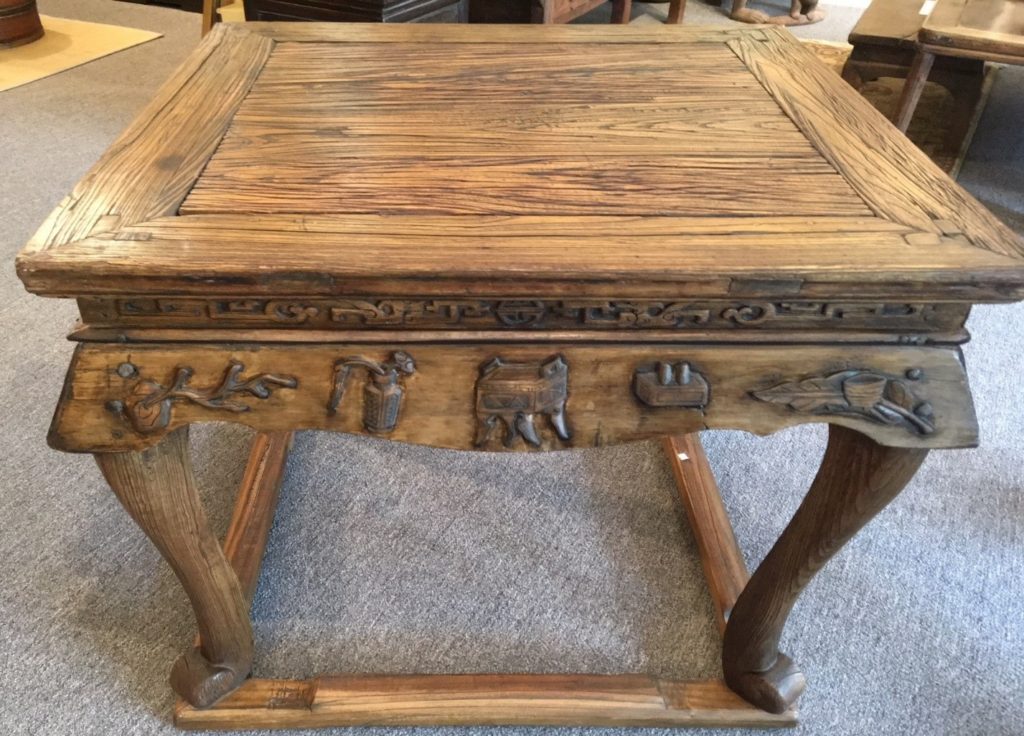 14th/15th C, Sophora (Huai), Shanxi.  Exceptional construction from extinct rare wood, distinguish deep grains, never warps, beautifully styled and carved.  30.5″ x 30.5″ x 30″ h.
This table has a traditional formalized style with archaistic decorations.  The top is made of a thick piece of Sophora, a very dense wood which became extinct after the Ming period due to the tree's extreme slow growth and over-used as building material.   The wood is characterized by its density, beautiful deep grains, and never warps.  With frequent polishing, this wood will deepen its sheen and will last for another century if well taken care of.
The table has a top edged with "water-stopping" molding, and a beaded waist with deep relief carving of stylized dragons with scrolling bodies confronting a "long life" design in the middle.  Below the waist is a wide arched skirt displaying deep relief carvings of the "Eight Treasures" and the "Attributes of the Scholar", archaistic decorations relating to Confucianism.  The cabriole legs are overhung by a skirted apron at the top part, which gracefully swells out in front but stays flat in the back, terminating in a claw-like scroll feet attached to humpback base stretchers.
This table was found in Shanxi and survived in excellent condition.  It is one of the most beautiful pieces of furniture found in China.  Any furniture made of Sophora and in good condition is very rare  as not many authentic antique ones survived through the ages to find their way to the West. This one never left China until it became part of our collection.  Its simple but elegant style will fit into any surrounding, traditional or contemporary.
Price: enquire