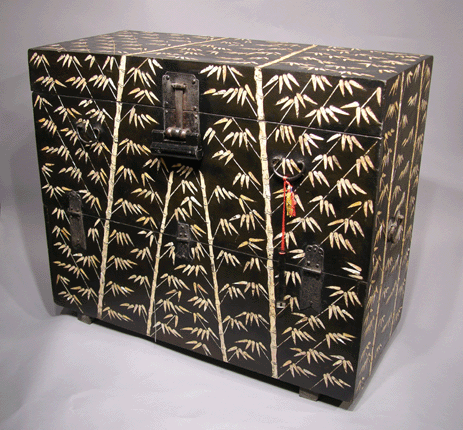 Ca 1860, found in Kangwha Island, lime wood, mother-of-pearl inlay; made for high-ranking court official; certified.
28½" h. 34¾ w. 15½" d.
This chest is very rare in Korea.  It was found in Kangwha Island, a political prison colony for the Kingdom of Korea for two thousand years.  Many treasures were found there by a missionary doctor who went there to tend to the sick and dying after the Japanese Occupation.   Bamboo signifies loyalty to the king.  This chest was likely owned by a high official with connection to the imperial palace who got into disfavor with the Court and was sent into exile.  Furniture was not value by the elite class nor the government so the prisoner was allowed to take that kind of personal belonging with him.  The chest was used to store the official's clothing.  The antiquity was certified by a Korea Professor of Korean History and Antiquity.  It is in excellent condition.
Price: Inquire