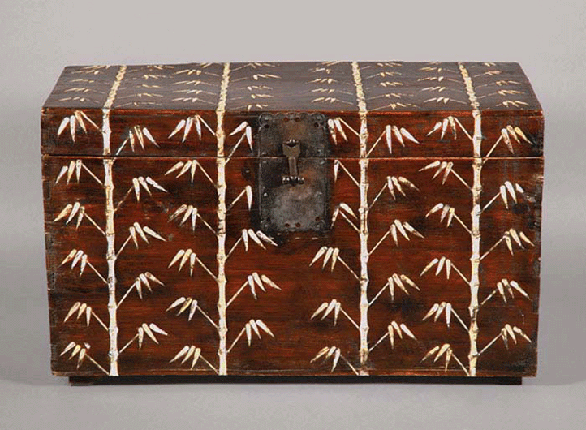 Ca 1860, found on Kangwha Island.  Certified palace document box; paulownia wood, mother-of-pearl inlaid.  30.5″ L, 14.75″ W, 18.25″ H
This document box was found after the Japanese Occupation on Kangwha Island, a political prison colony for the Kingdom of Korea for two thousand years,. This is one among many such unique pieces found by a missionary doctor who went to the prison to treat the sick and dying.  He was allowed to take some away as in that era, furniture was not appreciated by the elite class, who only cared for ceramic art, paintings, calligraphy and other scholarly writings.
This box was used to store documents.  The mother-of-pearl (nacre from lining of abalone and not the common oyster) signifies "Loyalty to the King" in that era, so this box probably belonged to a high official, with connection to the palace.  It is a valuable piece certified by a Professor of Korean History and Antiquity as rare.  The outside condition is very good but the paper lining inside is torn.  (Paper lining was done in most furniture in Korea because the weather there is very humid in the summer and climate control was not invented). The iron lock-plate is hand-made and original.  With a stand made for it, this piece would make an elegant side table in any traditional or contemporary room.
Price: Price on request