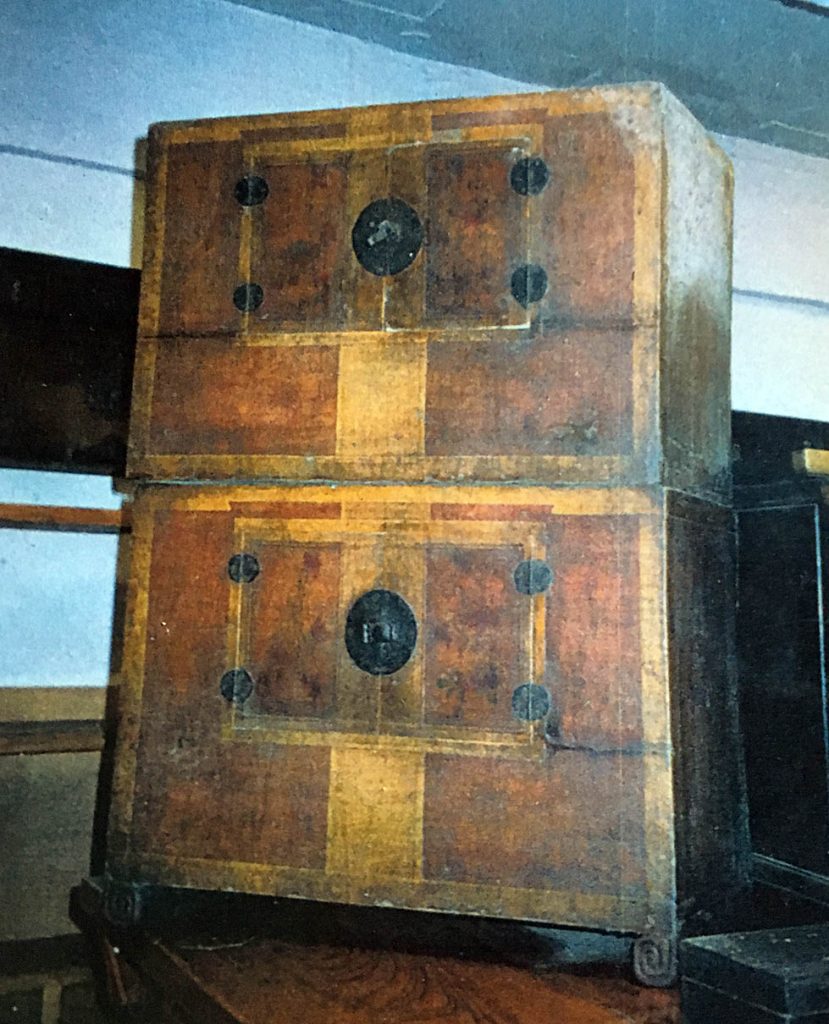 1860; paulownia wood, oiled rice paper; Kang Won Do province.  Certified.
This stacked chest is made of paulownia wood covered with cut rice paper then oiled.  This wood is quite light, known to withstand temperature changes, and is heavily grained but the grain is without contrast in coloration so could be quite dull.  Covering this stacked chest with pieces of delicate rice paper and decorating the small door panels with painting then coating it with perilla oil is quite uncommand and time consuming.  The process seemed to be done to camouflage the rather dull paulownia wood underneath so the chest could be presented as an outstanding gift on a special occasion, as a wedding.  With age, the colorful paintings on the doors have become muted, the designs hard to recognize.  The varied colors of the cut paper on this stacked chest, however, give it a very arresting look.  The original simple iron lock-plates and hinges complement this aged piece.  The bottom unit ends with angular scrolled feet.
This delicate looking double-chest decorated with paintings on oiled rice paper is considered rare as not many chests done like that survived the Korean War.  It was made intending for a woman's quarter to store small clothing items such as socks and clothing wraps.  The light paulownia wood makes it easy to be moved around.  This aged piece with a wonderful patina is certified by a Korean Professor of Korean History and Antiquity, one of only thirteen certifiers approved by the Korean government in the 1900s.
Price: $4990