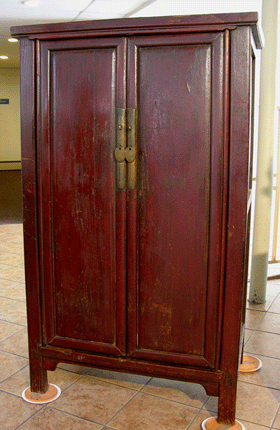 Early Qing Dynasty. (About 300 years old)
Elm
Shanxi
63" h 38¾" w 24½" d
This four-sides-square cabinet is an original that launched many reproductions sold to dealers all over the world. The classically simple style conveys a sense of dignity and balance so sought after by Ming literati, who considered anything too elaborately carved and decorated vulgar. As it is, this piece was as easy to live with back then as it is easy to fit into today's contemporary surrounding. This is a timeless piece.
The door panels on this cabinet are flush with the frame and are extended almost to the floor, providing ample storage space behind. A simple apron is fitted below the doors.
The cabinet survived in excellent condition with original brass-plate door hinges with curved and cusped edges and decorated with boss-head nails so often found on Ming furniture. The lock-plate might be a replacement but if it is, it is an old piece, a fitting replacement in style and quality of metal. The use of thick, elegant brassware fitting on an otherwise classically simple-looking cabinet indicates that this piece was specially constructed for someone of the literati class, a class who followed Confucianism's basic concept of dignity, simplicity, structure and balance in construction of houses and furniture. Further proof that this is a quality piece is in the attention to details. The top edge of the inside of the cabinet is not plain but is fitted with a curvilinear apron carved with a cusp in the middle. This apron design is often found on quality Ming pieces. The cabinet has two shelves inside. The fixed top shelve is fitted with a drawer.