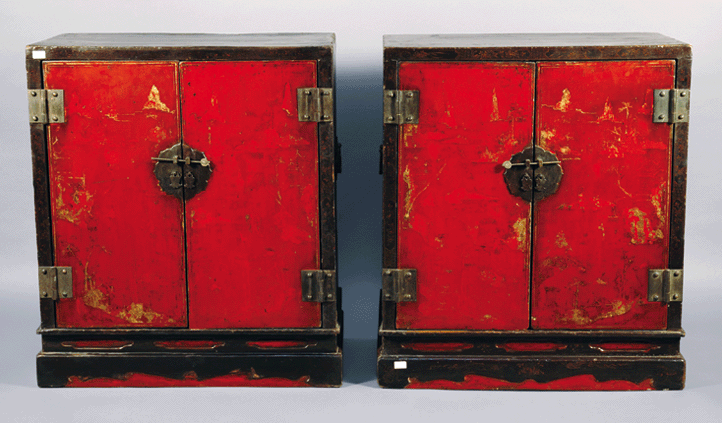 17th Century (late Ming Dynasty)
Original lacquer over core wood, original hardware
Shanxi
35¾" h. 30¾" h. 17½" d.
The pair was constructed in the traditional four-sides square style, with black lacquer on all sides except the pair of doors in front, which is red with black and gold courtyard scenery paintings, which has faded with age. The front black frame borders have scrolling seasonal flowers design, also faded. The main body of the cabinet sits on a waisted base section with red 'taohuan' panels on a black ground. (taohuan is a general Chinese term used for narrow, usually horizontally oriented decorative panels. This is a design found on many early traditional style furniture in China). The extended base part is black with a red scrolling design at the bottom.
Caninets with gilded paintings were usually made for families of wealth because of the work involved. A special merit to this pair of cabinets is the survival of the original hardware, except for the locking pin, which have disappeared. The patina is excellent.
(Put side-by side with a piece of marble or granite on the top to tie them together, this pair would make a marvelous long credenza, which is very hard to find today.)