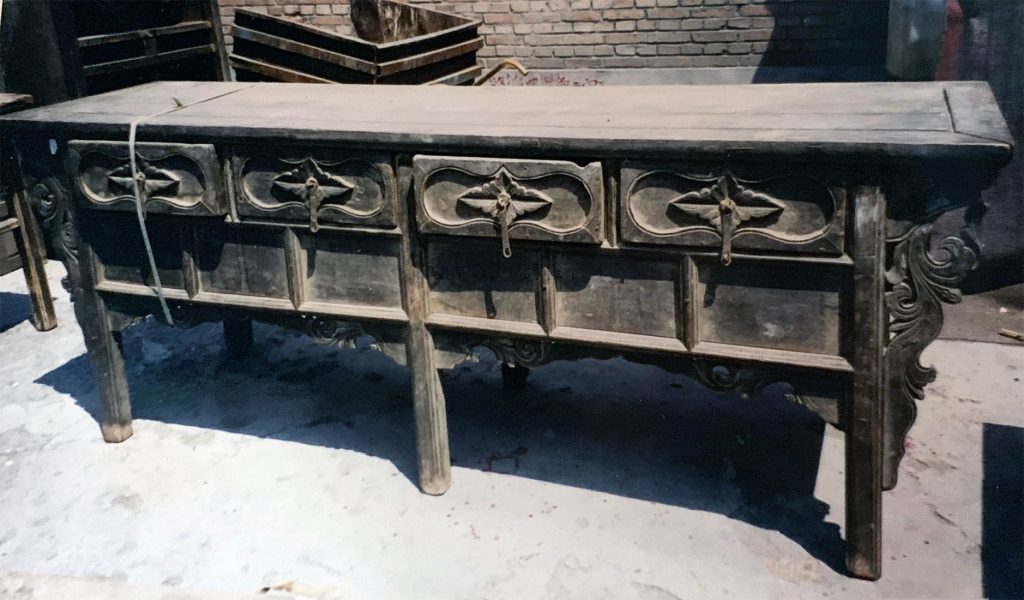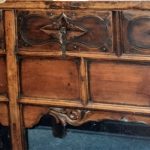 13th/14th Century; extinct Sophora (Huai) wood, pine and other soft wood for secondary framework; restored to its archaistic beauty with proper restoration; Shanxi.
This coffer is rare not only because of its age but also because of its wood.  The Sophora is a tree extinct after the Ming period due to its slow growth and its wood over-use during the Yuan and Ming dynasties.  It was the wood of choice as furniture building material because it is not only dense, it also naturally resists moisture and insect damage, in addition to having beautiful deep grain patterns that make painted decorations unnecessary.
During the early Ming period, the society was dominated by the scholar class which pursued writing, painting, and collecting pottery and vases in their leisure time.  An exceptional-looking table like this coffer must have belonged to someone of the elite scholar/official class.  Its wide surface allows the scholar to paint and write on it.  As banks did not exist at that early age, a coffer with hidden space below the drawers were used to conceal some of his valuable personal belongings.
This table has a textured floating panel at the top, which is attached to the frame members with traditional mitered, mortise-and-tenon joints.  Since the table is so long, the body is supported by three legs in front and three in the back.  Long tenons from the legs penetrate through to the surface of the top to give good support.  Each drawer front is carved with a beaded ribbon-shaped recessed section inside which is carved in relief a pointed-leaf motif, with a long and narrow iron pull in its center that can be locked to a ring on a lower frame stretcher.  All metal-ware is original.  Below each drawer is a plain panel behind which hides a secret compartment.  Subdividing frame members are molded to sharp ridges on both sides.  A long apron in front is separated by the middle leg into two sections, with each section pieced with a scrolling grass motif.  An elaborate openwork carving of scrolling-leaf design is done on the long spandrel going down each side of the leg in front.  The table has a recessed panel on each side, with a stretcher below it.  This long coffer shows a balance and elegance the elite class of old favors.
This coffer was found in Shanxi in the early stage of China opening to the West.  It showed a grayish patina of old age, with much of its dark lacquer faded but otherwise survived in excellent condition.  The coffer was restored to its archaic beauty with cleaning and application of the natural 'lac' from the lacquer trees that flourish in Shanxi.  This lac not only restored the natural luster to the wood, it also helps to preserve the wood.
Price: Please enquire