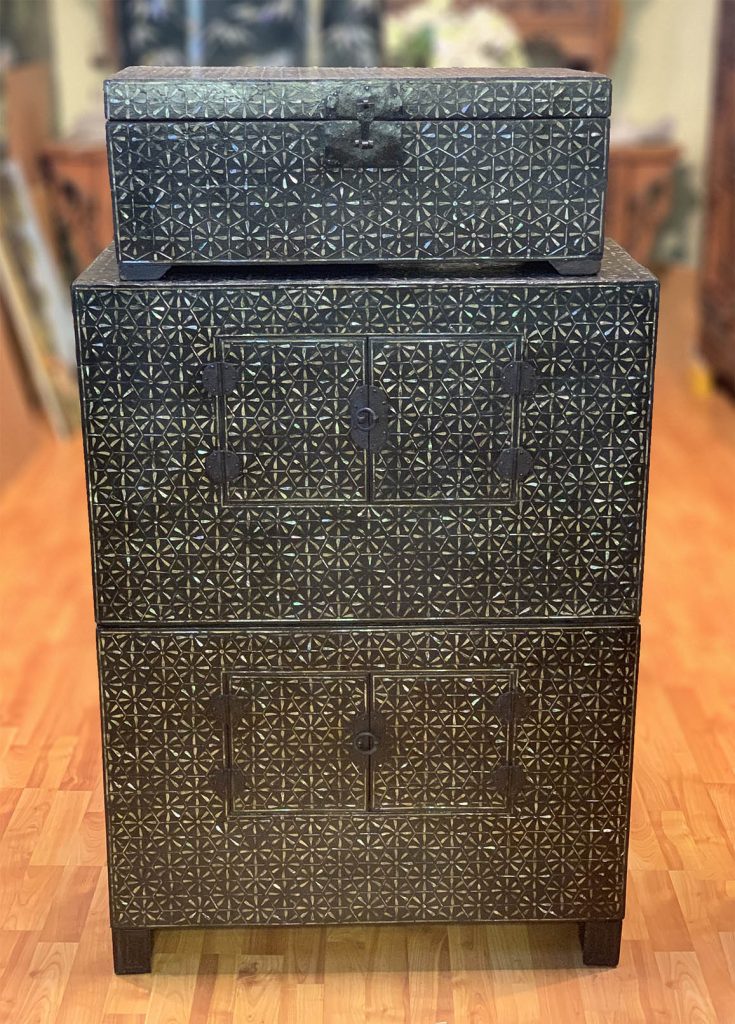 1860, Choson Dynasty, lime wood, mother-of-pearl, found on Kangwha Island, Kyung Ki Do Province.  30.5″w, 14.5″ d, 41.75″h with stretcher legs
This double chest, with quiet beauty of mother-of-pearl inlaid, is the kind of furniture the elite class of Confucious era wanted.  It was most likely given as a wedding gift to a member of the royal family as the brilliant gem inlaid allover it would not be what any common citizen could afford, so this chest is attributed to be a Palace Wedding Chest.  With small doors only delicate clothing items could go through, the chest was probably used to store underwear clothing and socks for the bride.  A similarly decorated small wedding box in our collection would have been put on top in the women's quarter in the palace.  Small unobtrusive iron fittings go with the piece, not overtaking the quiet brilliance of the mother-of-pearl.
This chest was found on Kangwha Island, a political prison colony for the Kingdom of Korea for two thousand years.  It was found by a missionary doctor who went to the prison to treat the sick and dying after the Japanese Occupation.  This piece is certified rare by an appraiser, one of only thirteen approved by the government in the 1900s.
Price: Inquire