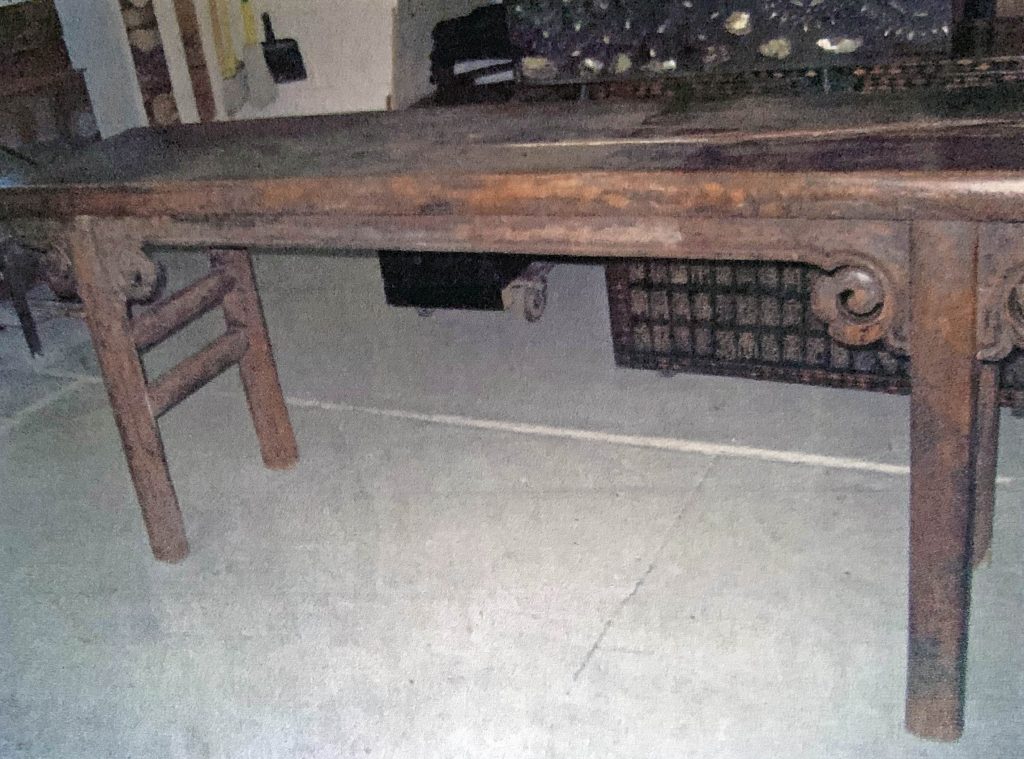 13Th/14th Century; extinct Sophora (Huai wood); Shanxi.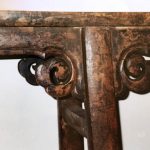 This pair of early Ming altar tables is very rare, not only because of its antiquity but also because of its construction material.  The Sophora is rare because it became extinct after Ming Dynasty.  This tree grew only about an inch a year so it is very dense and strong.  Since it is also naturally resistant to moisture and insect damage, it was the wood of choice for furniture building during the Yuan (1279-1368) and Ming (1368-1643) dynasties.  Its slow growth and constant use caused the demise of this wood as a  building material by the end of the Ming period.  So, furniture made from this wood is commonly attributed to that early era.  It also has another historical significance.  According to an early chronical about China, "Imperial Peking:  Seven Centuries of China", by Lin Yutang, in 1643, the last Ming Emporer, Tsungcheng, hanged himself on a Sophora tree when he realized he was about to lose his kingdom.
The pair displays Ming literati preference in furniture — Simplicity, structure, balance, and dignity.  It is traditionally constructed in the mitered, mortise-and-tenon method.  The top is made of a thick slab of Sophora wood, without everted ends.  The recessed apron ha a beaded edge running continuously round the edge of the spandrels.  The spandrel in turn is carved into a cloud-head or "ruyi tou" (as-you-wish head" pattern.  The legs are sturdy, with the rectangular length slightly rounded on the outside and flat inside.  They are spanned by slightly rounded double stretchers.
This pair of tables was found in Shanxi, an important banking center and an area rich in minerals during the Ming period.  Due to a time of stable political situation and economic development, an elite class of scholars nd high officials settled there.  This class could afford to commission high quality furniture produced by some of the most skillful craftsmen in China.  Thus Shanxi has the reputable to have some of the best early period furniture produced in China.  Its location in northern China , guarded by The Great Wall, helped in preventing its treasures from being destroyed by wars in other parts of China in later years.  The relative dry climate also helps in preserving wood furniture.  The provenance of this pair of altar tables is Shanxi, as it has never been outside China until becoming our collection.
When found, the original brown lacquer on this pair has faded to a grayish tint due to long neglect in obscurity.  It was restored to its archaic beauty with cleaning and application of the natural 'lac' from the lacquer trees that flourish in Shanxi.  This lac not only restores the natural luster to the wood, it also helps to preserve the wood.  The cracks on the table top happened because the Sophora, when first used in construction, tends to develop large cracks during initial drying but then dries easily with little warping and became stable.  These tables survived their long history in very good condition no doubt due to superior craftsmanship  and the strength of the wood.  Both retain a wonderful patina and their simple elegance makes them suitable to be displayed in homes traditional or contemporary.
Price: please inquire.