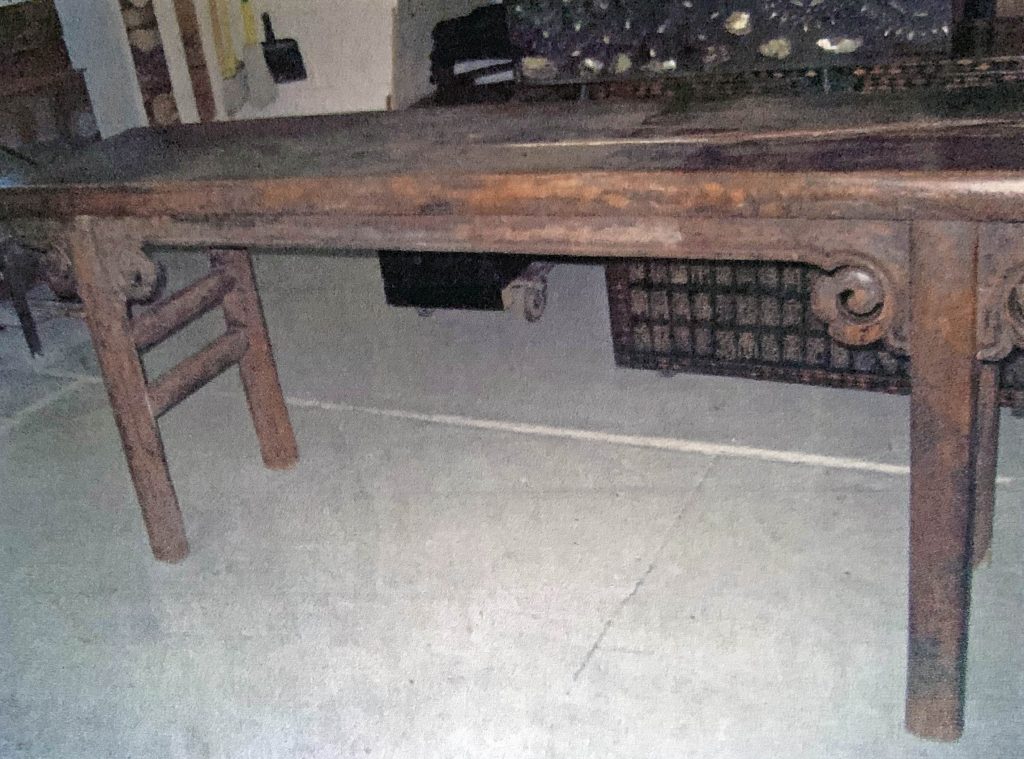 Early 14th century; extinct Sophora (Huai) wood; Shanxi.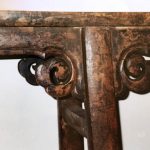 This pair of early Ming altar tables is rare not only because of its antiquity but also because it is made of an extinct wood, the Sophora.  This tree grew very slowly so its wood is very dense; since it also naturally resist moisture and insect damage, it was the wood of choice as furniture building material during the Yuan and Ming dynasties.  Its over-used caused the demise of this wood by the end of the Ming period.
The pair displays Ming literati preference in furniture — Simplicity, structure, balance, and dignity.  It is traditionally constructed in the mitered, mortise-and-tenon method.  The top is made of a slab of Sophora wood.  The edge is slightly rounded and there are no everted ends.  The front and back of the table are mirror images.  The recessed long narrow apron has beading on its lower edge and runs continuously under the top plank, cut by legs to house the deep carved cloud-head or "ruyi tou" (as-you-wish) spandrels.  The legs are sturdy, with the exterior surface slightly rounded and the inside flat.  They are spanned by same shape double stretchers.
This pair of tables was found in Shanxi with much of its original dark lacquer faded and appeared with a grayish tint due to being neglected in storage  during The Cultural Revolution.  The natural luster of the Sophora reappeared after the pieces were cleaned and polished with an application of the natural "lac" from the lacquer trees that flourish in Shanxi.  The lac not only restored the natural luster of the wood, it also helps to preserve the wood.  The cracks on the table tops happened because the Sophora, when first cut to use in construction, tends to develop deep cracks during initial drying but then stabilizes and does not warp.  The pair survived in excellent condition no doubt due to the strength of the wood and having existed in a region relatively dry and guarded by The Great Wall.  Its simple archaistic elegance compliments any period surroundings.
.
Price: