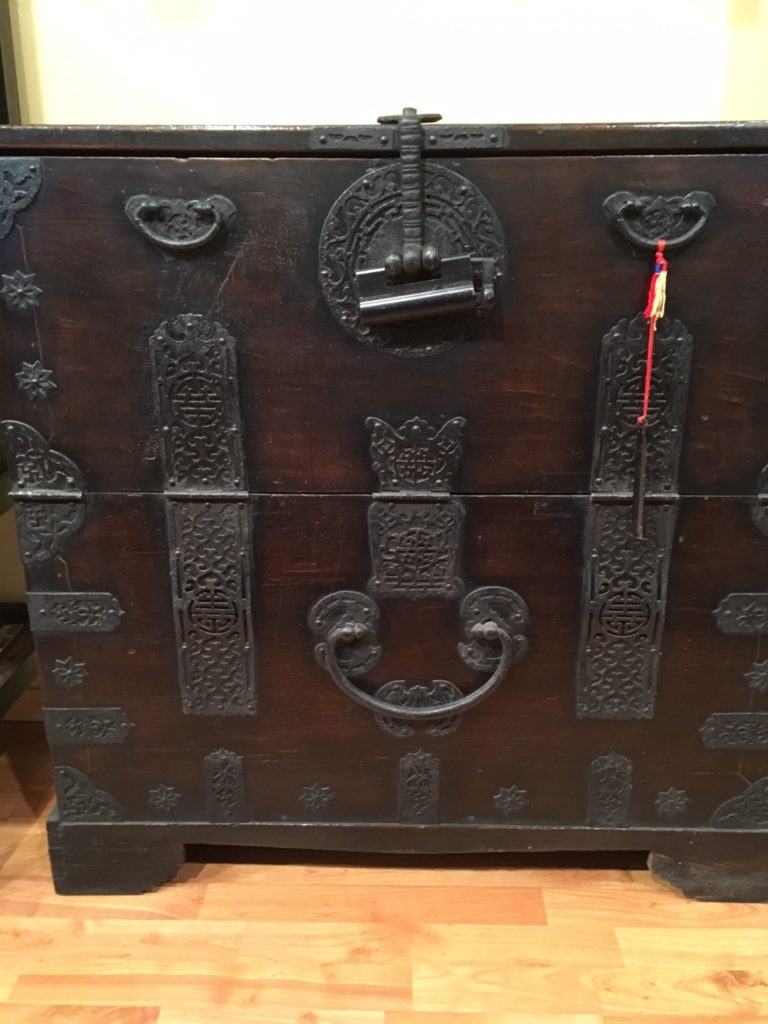 Yi Dynasty.  Ca 1870
Chestnut wood with iron fittings
Pyongyang City
24¼" h. 30" w. 15¼" d.
Made in what is now North Korea, this chest was taken from the north to south as a result of the Korean War.  It is a fine example of an authentic North Korean antique chest, a piece very hard to find today.
The ironwork on this chest is unusually thick, and the openwork designs very finely wrought.  Various auspicious motifs are exhibited on the ironwork.  The lock, in the shape of an elephant trunk, is mounted on a round, heavily hand-wrought openwork lock-plate with interlocking curves and angular patterns.   This round plate represents a Taoist design symbolizing heaven and earth.   The butterfly motif pull-plates with the swastika design in the middle signify harmony and long life.  This butterfly motif, with a stylized Chinese 'long life" symbol in the middle, is shown on the top part of a middle hinge to a drop-leaf door.  On either side of this hinge is an elongated vertical openwork metal hinge in a design very typical of hinges on North Korean chests.  The big half-round iron- pull attached to bat-design plates towards the bottom of the chest signifies good fortune and happiness.  All these symbolic designs are scattered throughout the front of the chest.
This chest, with such intricately hand-wrought openwork designs, illustrates what beautiful work North Korean furniture craftsmen could produce.