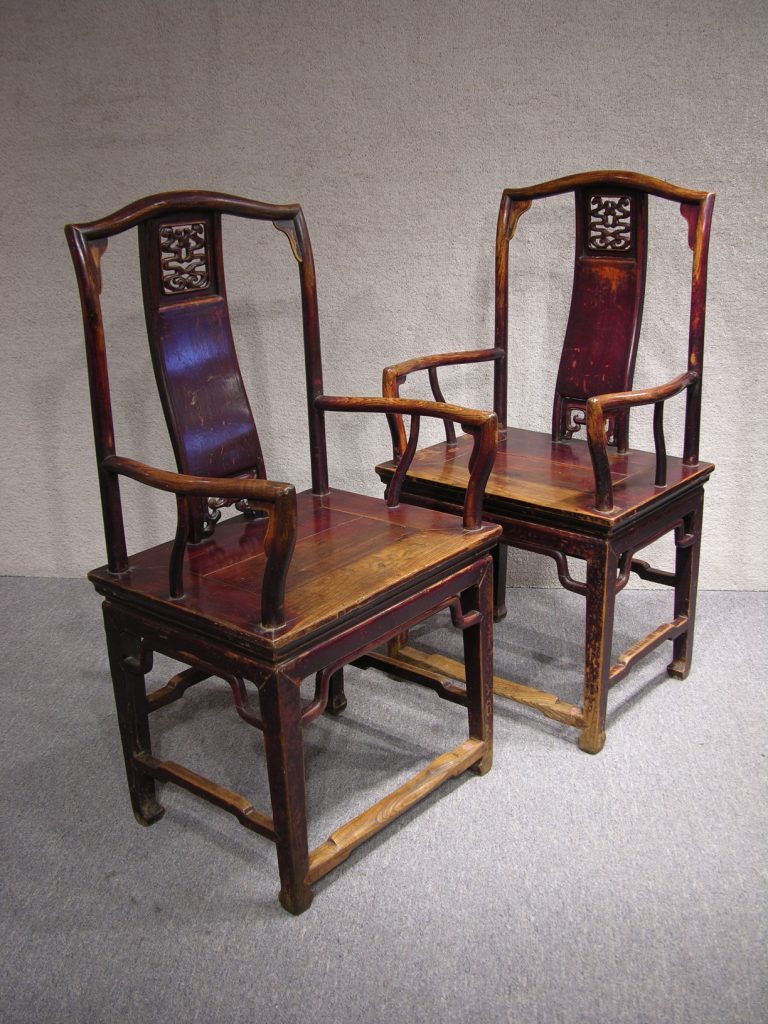 16th/17th C, Sophora, Shanxi.  Of rare extinct wood; tall back and wide seat suitable for today; all-original.
This kind of armchairs belongs to the type known as "guanmaoyi" (official's hat chair), the name deriving from a supposed resemblance to the winged hats which were part of the formal dress of Ming officials.  It is amongst the most prestigious chairs in a traditional household though the vast majority of the population never sat on high chairs of this type.  In old Chinese culture, it has the connotations of status and authority.
This pair of chairs is rare because it is made of Sophora, a wood that became extinct after the Ming period.  This tree grew only about an inch a year, so its wood is very dense and strong; since it also resists moisture and insect damage, it was the wood of choice as building material for the Ming literati.  Its over-use, however, caused the tree's demise and decimated its supply for furniture building by the end of the Ming period.  Furniture made from this wood is commonly attributed to this early era.
The chair displays a tall, elegant stance, with the seat back well suited to someone with a tall statute. The graceful, undulating S-shape backrest is finely pierced with 'chi' dragons (a motif in China associated with power) at the top and scrolling 'continuous life' motif at the bottom.  The rounded crest-rail, armrests and side-posts together create a charming impression.  The seat frame of the chair is waisted with deeply shaped humpback stretchers attached to the legs under the apron in the front and sides.  The humpback base stretchers are stepped towards the back. This configuration is traditionally considered to imply "ascent with each step", meaning to promote to high places.  The legs terminate in horse-hoof feet with the foot stretcher bearing sign of use.  The chairs survived in excellent condition, retaining much of its original rich deep reddish-brown lacquer.  Its survival is due much to its strong building material.  No part of it will warp, characteristic of this wood.
It is seldom known but furniture made of this wood has historical value because according to a Chinese hidtorical chronicle by Dr. Lin Yutang: "Imperial Peking, Seven Centuries of China", the last Ming Emperor, Tsungcheng, hang himself on a Sophora tree in palace ground when he realized he was about to lose his kingdom.
Price: $Inquire