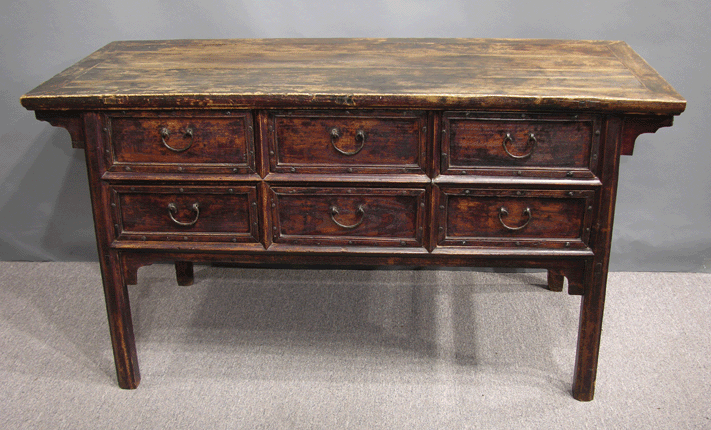 16th/17th Century
Elm
Shanxi
This table exhibits characteristics of the early Ming period. The mitered, mortise-and-tenon joint construction, and the use of decorative hand-hammered boss-head nails, found here on the drawer fronts, are typical of the period. Hand-hammered drawer pulls also show early craftsmanship.
The table- top is built with a floating panel for adjusting to shrinkage and warping which often happen due to changing weather. The molded legs are tenoned through the top frame members. The secondary stretcher members separating the drawers are shaped with sharp "sword-ridge" moldings. The lower horizontal molding and the stretcher on each side of the table also tenoned to the surface. Miscellaneous woods were used for drawer bottoms where wooden nails can be seen attaching the bottom piece to the frame members. The front and back spandrels and aprons are very plain, clearly of no importance to early Ming literati who prefer minimalist construction style, without cutouts and heavy carvings of later periods.
This table has a solid, grounded appearance. It projects what Ming literati want —Dignity, simplicity, structure, and balance. It has survived in excellent condition, with much of the original dark reddish-brown lacquer intact. It displays a wonderful patina only aging can accomplish.
This table is valuable because today authentic early Ming period furniture is very hard to find. It is a serious collector's item.