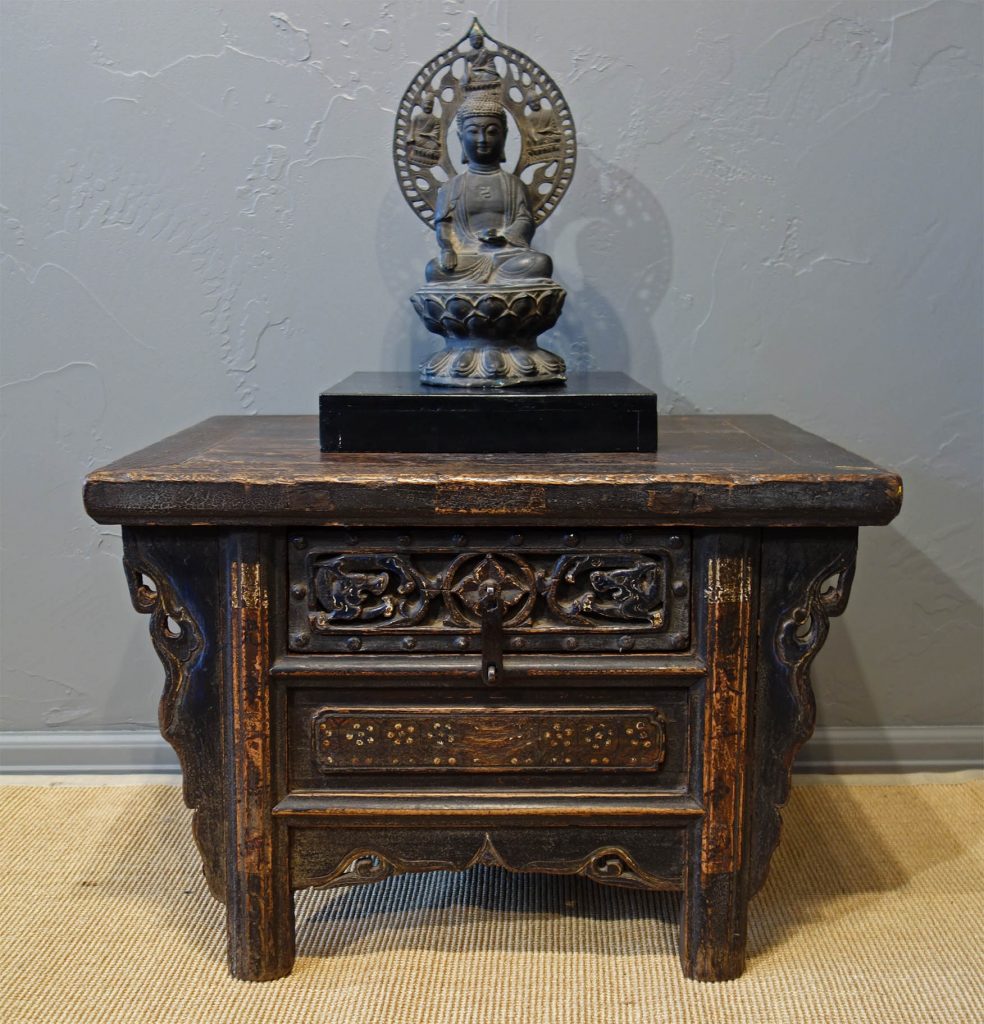 16th C, Elm, Shanxi. Important as table for holding Buddha figure in ancestral worship; rare as coffers disappeared after Ming period.
This kind of small table was often used to hold the statue of a Buddha in ancestral worship, thus it is called a "Buddha Table".  It could also be used for serving food and drinks since houses were small and much of the furniture had to be used for multiple purposes.  When used as a food-serving table, it would be placed on top of a kang bed, a hollow brick platform built into a room and heated by a fire underneath which served in the harsh winter of north China as a bed and general living space.
This kang table has the characteristics of a coffer, which is a chest built with a hidden space below a drawer to hide valuable personal belongings. Coffers are rare as it largely disappeared after the Ming dynasty when the merchant class emerged, along with banks.
; This small table is constructed in the traditional mitered, mortise-and tenon method. The legs are visibly tenoned to the table top. The top has a mitered frame with a central floating panel formed by several planks. It is strengthened below by transverse braces, with ends also tenoned to the surface. Below this top is a drawer with a deep-carved floral rosette flanked by a pair of deep-carved confronting dragons with scrolled bodies. The rosette is fitted with an original hasp plate which can latch and secure the drawer to a locking loop in a cross slat below. The locking device is now missing. Around the deep-carved panel front is a row of hand-hammered boss-head nails inserted there as an expensive decoration. (Metal was an expensive commodity, afforded by only the very rich). A concealed storage space is found beneath the drawer, making this small table a coffer. This hidden space is fronted by a carved panel with relief floral carving. All the carvings seem to be gilded at one time though this elegant touch has largely faded now.
This frontally oriented piece is decorated with long scrolled spandrels and aprons. The vertically molded front legs are very interesting in that some Chinese writing seems to have been inscribed there, probable wishing the person gifted with this table long life, happiness and prosperity. The writing is very much faded but a writing expert could probably make out a few words. AS coffers were frequently presented as part of a dowry, this little elaborately constructed table might be given as a wedding present to a member of high society. This little table has survived in excellent condition and is a testament to the fantastic craftsmanship of that era.