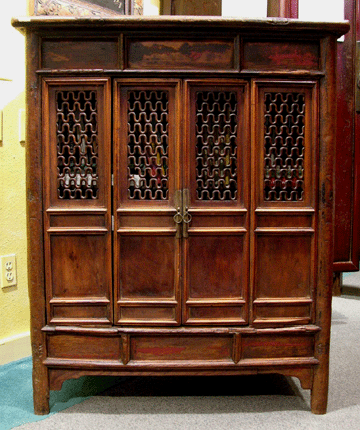 16th-17th Century, Ming Period (400-450 years old)
Elm
Shanxi
43½" h 36" w 22"d
This cabinet is called a "Buddha" cabinet because it was originally placed in a temple for storing Buddha manuals and ritual vessels. It exhibits early style characteristics, with a slightly extended cap top and round-corner frame that stretches all the way from just below the top to the legs. The front is multi-paneled with all the panels slightly recessed within ridge-sculpted stretchers and divided by "sword-ridge" struts. The three small horizontal panels at the top is repeated at the bottom. Between these rows are four identical vertical panels with the central pair made into swivel doors. The top half of each of these panels has open-carvings of silkworm geometric designs while the bottom half has shorter panels between tow rows of small horizontal panels. The side panels of the cabinet are recessed and each is divided by a ridged stretcher.
This cabinet has its original lock-plates which is quite rare on Chinese antique furniture. It has a wonderful patina with all its aged blemishes. It was originally lacquered red and black, but now only traces remain. Temple-ware is always excellent collector's item as it was specially made for the temple and not for the masses and so is more rare.