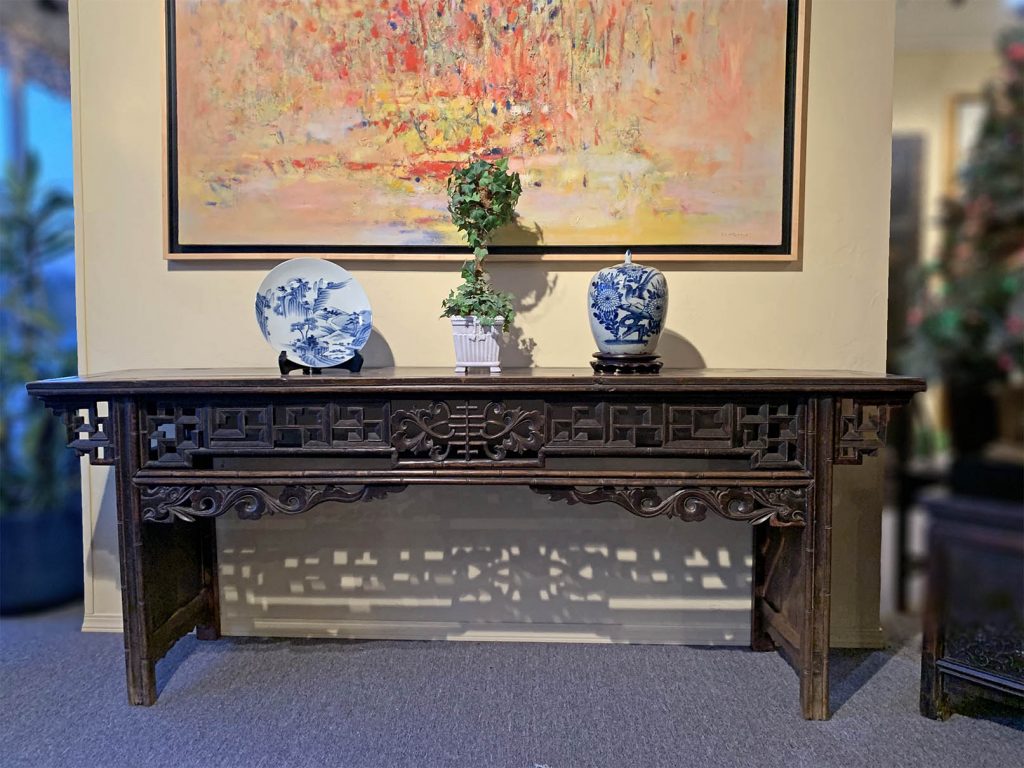 Early 18th century, walnut, Shanxi.  86.5″ w, 20″ d, 33.5″ h.  Expensive wood, beautiful openwork carvings, Buddhist motif relief carvings on side panel.
Walnut has always been a highly valued furniture building wood in China.  According to Wang Shixiang, Chinese antique furniture guru, early walnut furniture sourced from Shanxi generally demonstrates refined workmanship, resulting in furniture of high quality, so they are extremely rare and very valuable.  This aged walnut table from Shanxi, with indisputable fine workmanship, certainly has all the qualifications described by the guru.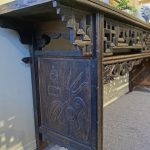 The table exhibits traditional mitered, mortise-and-tenon construction.  The top has a floating panel.  The legs are double-tenoned to the top.  The openwork panel below the top is designed with angular scrollwork prevalent in furniture of the Qing period.  It is made up of myriads of small beveled pieces intricately and laboriously fitted together.  Amid this scrollwork are carvings of scrolling leaves, with a stylized "long life" symbol in the middle.  The double stretchers below the openwork panel are molded like bamboo, a technique emerged during late Ming period.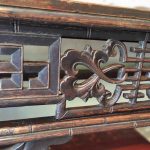 Below the bamboo-like stretchers is an apron with openwork carving of a scrolling floral design at each corner.  The legs are made from bamboo-design moldings.  Between the legs at each end is a solid panel showing low relief carvings of Buddhist symbols.  The stylized "ruyi" means "granting all wishes".
An elegantly designed and elaborately crafted table with a valuable wood like this piece no doubt belonged to someone of the elite scholar/official class.  With raised flanges at the ends of the top, such a table would serve as an altar table, employed in the domestic cult of ancestors, supporting flower vases, burners for incense and offerings of food and drinks.  It was originally painted with a dark tree-lacquer, some of which bled through at the top at some places in an oily patch; otherwise this table is in excellent condition.
Price: enquire for details