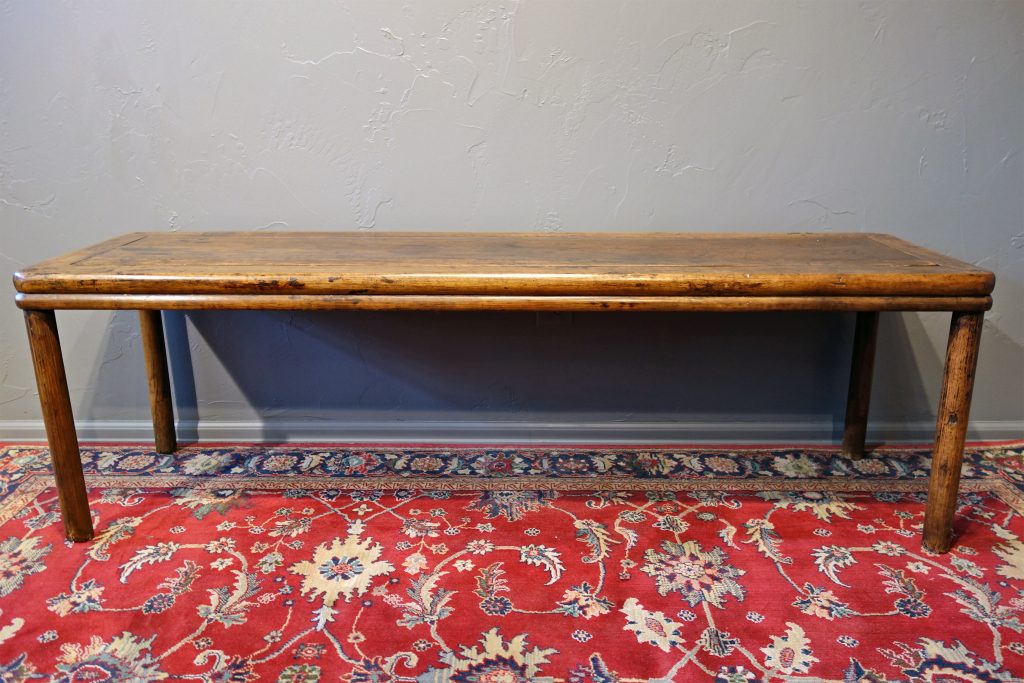 Late Ming/Early18th C; walnut; Gansu.  Simple line and no adornment makes this bench fit easily into contemporary settings.
62¼" w. 17½" d. 19½" h.
This bench is symmetrical on both sides. It is made of walnut, (a highly valued wood in China), in a round-leg style with the legs extending from the far corners instead of recessed under the top.
The bench has a mitered, mortise-and-tenon floating panel framed top and double rounded edges.  The convex molding connected to the similar rounded edge of the top create a layered effect such as that found in the construction of the "bamboo style" furniture that emerged in the late Ming and flourished during the Qing period.
The hardwood seat is constructed with both standard mortise-and-tenon miter joint which tenons through the sides of the top frame, as well as "slip tenon miter joint", with leg-tenons penetrating through the top surface.  Two cross-braces underneath add sturdiness to a rather long seat-top.  The bench has circular legs, and like the rounded molding forms, are influenced by early day bamboo furniture construction.
The seat panel shows a number of burn marks, perhaps because it was sometimes used as an altar table.  More possibly, in Gansu, a province in northwestern China, it was common practice to cook with an iron pot.  This bench was likely being used, beside as a seat and altar table, as a table for serving food, when an iron pot with food was casually placed on it.  The mark causes a slight marring of the surface but gives us today an insight into its cultural usage.  With a valued hardwood and simple line, it would blend nicely with contemporary furniture.
Price: Sold