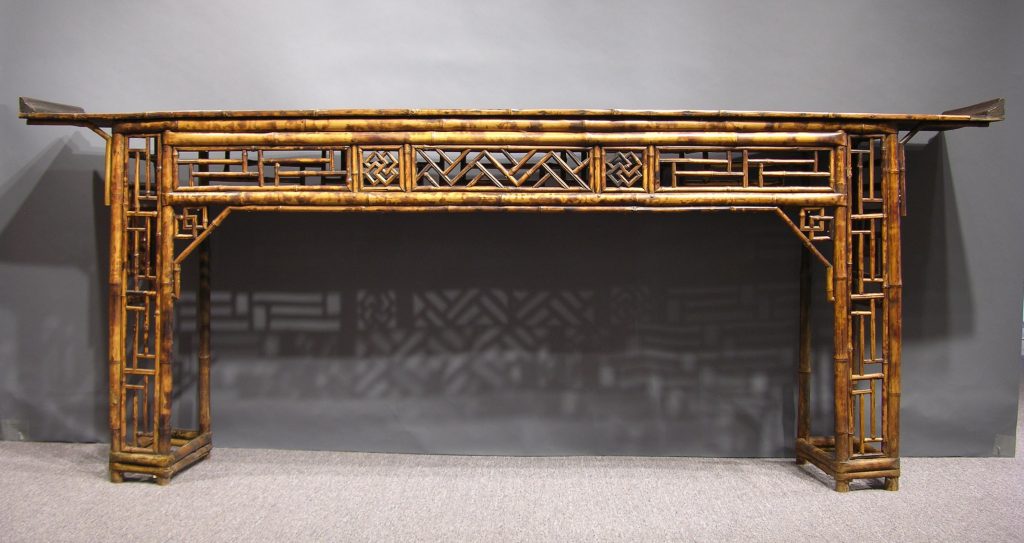 18th C, Shanxi. Elm top, speckled bamboo body, lattice design fitted together without glue or nails.
This long bamboo table is distinguished by its delicate appearance but sturdy construction without glue or nails.  The top panel is made of elm and has everted ends.  It overhangs the main body with frame-work of sturdy speckled bamboo poles which form an apron in front.  The table legs extend to a sturdy base done by double bamboo stretchers lashed around the poles, which stand a little off the ground to prevent possible damage from a damp ground.
The beauty of this altar table is in the lattice openwork designs on the apron as well as the front of the legs. The apron design is formed by myriads of small secondary elements of bamboo wrapped with caning that both decorates and stabilizes the openings.  Amid this apron of zig-zag lattice design are depicted two endless knot patterns, denoting a wish for Buddha's blessing for a long life.  This same  design is repeated on the openwork spandrel at each corner of the apron with the legs.  The legs show decorative lattice work only in the front, with just plain openings on the sides and the back.
This table is meant to be put against a wall as the back side is not as elaborately put together as the front.  The work of lashing bamboo elements together without glue or nails is labor intensive and costly.  This fragile-looking but elegant table must have graced some manor in the past but would no doubt do the same in a contemporary setting. ( One was seen featured in a pent house in a popular décor magazine).  Antique bamboo furniture is rare as not many survived neglect in storage during the Cultural Revolution.
Price: $7,900