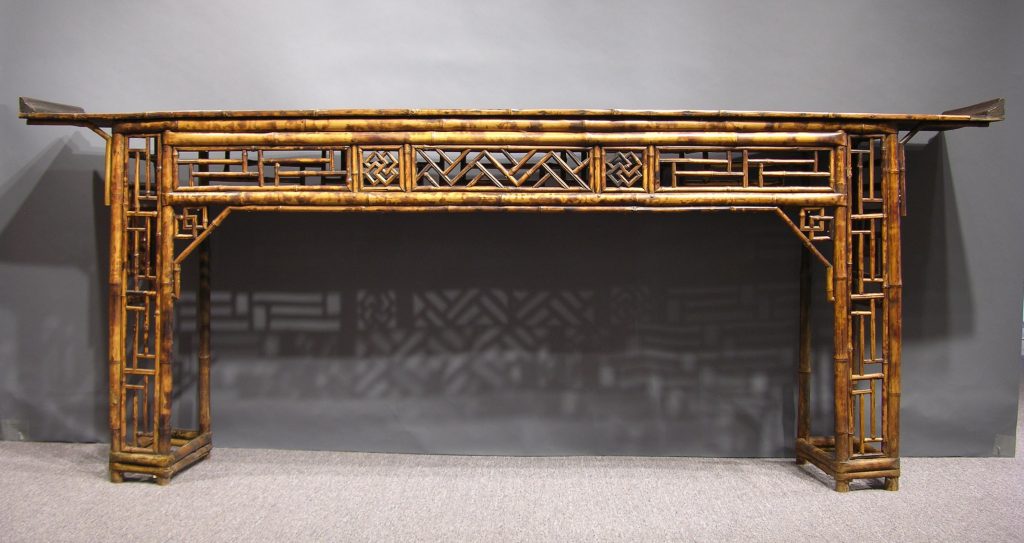 18th Century; Elm and speckled bamboo; Shanxi                                                                                                   86″ L, 13.5″W, 33″ H                                                                                                                                                                                                                                                                                                                                This long bamboo table is constructed without glue or nails.  The pieces are held together by a labor-intensive tenon construction method.  The top panel is made of elm and has everted ends.  It overhangs the main body with frame-work of speckled bamboo poles which form an apron in front.  Box-like pedestal of bamboo that are tenoned together form the leg supports, which are strengthened at the base with double bamboo stretchers lashed around the vertical poles.  The poles end slightly off the ground to prevent possible damage from a damp ground.  Bamboo is pliant and strong but is susceptible to water damage.
This altar table is constructed with lattice openwork designs on the apron as well as the front of the legs.  The designs are formed by small secondary elements of bamboo not glued but tenoned into each other.  They both decorate and stabilize the openings.  Amid the apron with key-fret lattice-work are depicted two endless-knot designs, denoting a wish for Buddha's blessing for a long life and good fortune.  This same design is repeated on the openwork spandrels at each corner of the apron with the legs.  The legs show decorative lattice-work only in the front, with just plain openings on the sides and the back  as this table is meant to be put against a wall.  Traces of age-darkened lacquer suggest a thin transparent coating was applied over the speckled bamboo.
This altar table is rare as not many bamboo furniture survived the ages, especially after a cultural revolution.  It is in good condition, with just a slight warping of the table top due to age. One similar is seen decorating a room in an elegant penthouse in a magazine.
Price: $7,900