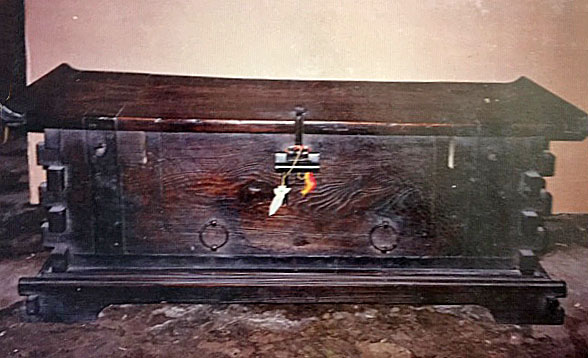 1860, Zelkova wood, iron fittings, Found on Kangwha Island. Certified.
This document chest is made from zelkova, which many Korean and Japanese called "dragon wood" when deep grain pattern on the wood appears like image of a dragon.  It Is the wood most valued by both Korean and Japanese antique experts.
This chest was made for a scholar or high official, an elite class of people of by-gone days.  No one could be in high office without being highly literate at that period.  This chest was for him to store his documents, writings and scrolls, items valuable to him.  He must have been sent into exile and allowed to take any valuable personal belongings with him.
This chest is interestingly constructed and beautifully decorated with metalwork.  The deep grain on the top would not make a good writing table for the scholar, but the low chest would make a nice table for supporting his antique vases, books and manuscripts.  The dark lacquer preserved the wood and makes it look rich. This is a piece deserving a place in an art institute.
Price: Offer