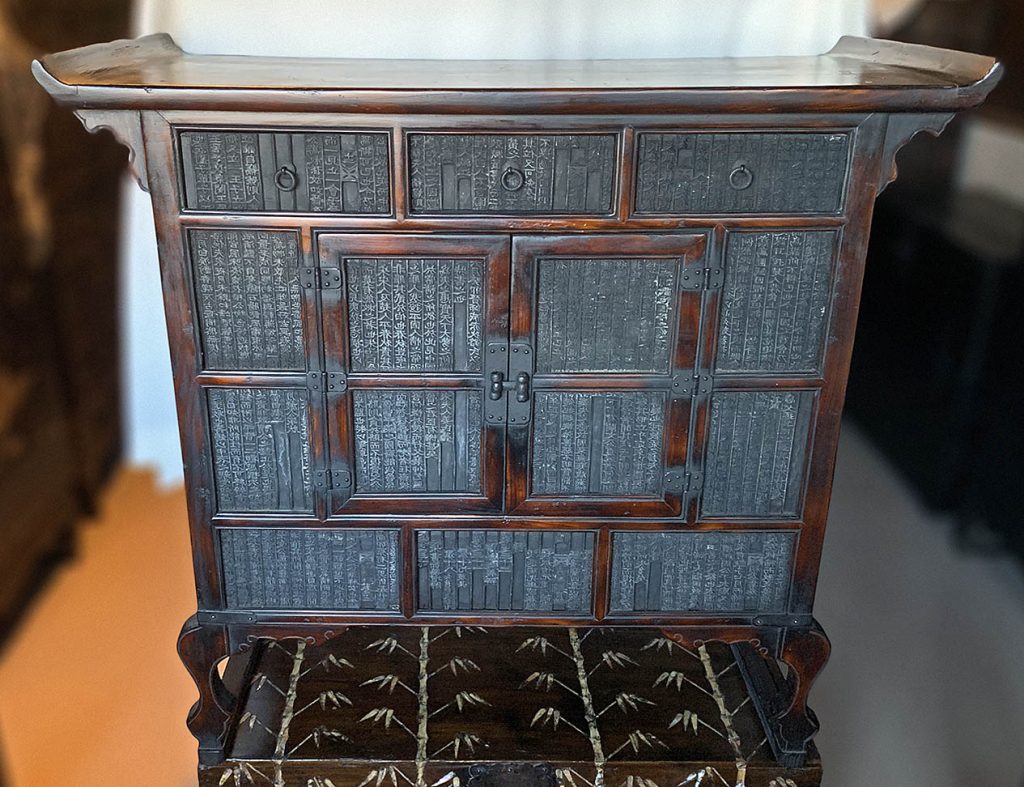 Circa 1860 (Yi Dynasty); pear wood, iron fittings, printing-block panels; found on Kangwha Island, Korea.  36″ w, 17″d, 34″ h.
This exceptionally crafted chest was found on an island that had been a political prison colony for the Kingdom of Korea for two thousand years.  It was  made for a member of the elite scholar/official class who found disfavor at court and was sent into exile on this island.  It has unique hand-carved Chinese characters in printing blocks style on its front panels as the Yi Court paid homage to China during that period and all high officials had to be able to read and write Chinese.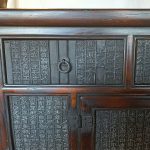 This chest was used to store the scholar's books and documents.  The top panel of this chest has everted ends like one on an altar table and is decorated with a corner curvilinear spandrel below it.  The  body is made up of three tiers of recessed panels hand-carved with textbook-like Chinese characters on them.  The top tier consists of three drawers.  Below them is a pair of doors with four panels in the middle and a pair of stationary panels on each side beside it.  The bottom tier has three stationary panels hiding extended storage space behind.  The three drawers above and all the panels below are separated by molded stretchers and struts.  The legs curved gracefully into cabriole legs standing on a base stretcher, a style usually only found in furniture made for the elite class.  The inside of this chest is lined with Chinese character text book pages. The drawer pulls, lock plates and hinges on this chest are all very simple and made in iron, a metal valued by Confucian period scholar class for its quiet strength.  This elite class would have admired this elegant piece for its structure, balance, and dignity.  It was certified rare by a Professor of Korean History and Antiquity, one of only thirteen antique certifiers approved by the government in the 1900s.  This expert felt this piece should be in a museum.
Price: Inquire for details