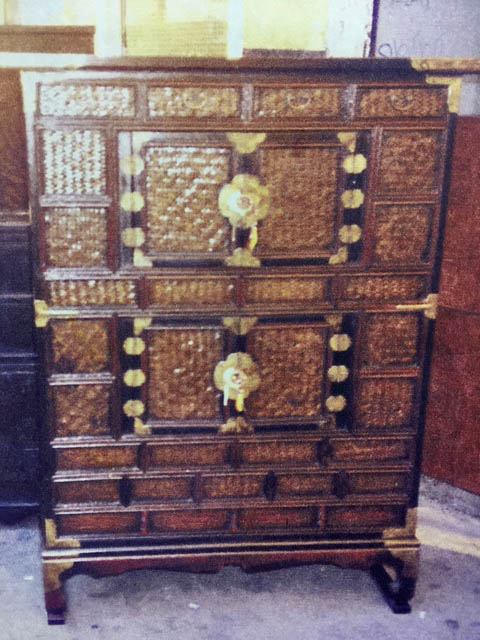 Yi Dynasty. Ca. 1870
Split-bamboo basketry on wood, Paulownia wood, brass fittings
Kyang Ki Do                                                                                                           35.5″ w, 15″ d, 56″ h
This multi- levels "jang" is housed in a single frame with a cross bar strengthening the side panels.  It ha an overhanging top, with a row of four narrow drawers below it, then two levels of storage units each with a pair of doors in the middle and three rows of narrow decorative panels at the bottom.  The frame is made of paulownia wood.  All the panels in front are covered with woven split-bamboo basketry and each recessed panel is double-framed with molded wood slats.
Each storage unit of the chest has a pair of doors in the middle, with two decorative panels separated by a slat along each side.  With the top chest unit, a row of four narrow panels mirror the front of the four drawers at the top except they are just decorative panels and not drawers.  This storage unit is separated from the bottom one by a molded wood stretcher.  The bottom unit starts off with a pair of doors and double side decorative panels as the top.  These are separated below by a molded stretcher from the three tiers of narrow decorative panels at the bottom.  The brass lock-plate on each storage unit door and the hinges on the doors have decorative floriated edges.  The corners of all the panels are decorated with brass corner braces, with the one at the end of the stretcher separating the two storage units being more decorative with a tongue extending from a stylized ruyi-shape brace.  This double chest sits on a decorative stand with curvaceous lower edge and brass corner braces ending with shapely legs on side base stretchers.
A sumptuously designed chest like this was used by members of the extended royal family.  Few examples of split-bamboo basketry style chests are known to have survived due not only to the delicate nature of bamboo that tends to dry out and split, but also to the many wars Korea faced throughout its long history.  This unique chest is certified rare by a Korean Professor of Korean History and Antiquity, one of only thirteen certifiers approved by the Korean government in the 1900s.  According to Professor Chung, double slats framed bamboo clothing chest of this kind was only found in a royal household, so it is rare.
(A Two-unit Stacked Chest with bamboo basketry panels framed by plain single slats and stretchers is shown in a catalog produced by the Brooklyn Museum in the 1900s.) one with only single-framed panels has been seen in a catalog produced by the Brooklyn Museum in the late 1900s
Price: For auction; estimate to be determined