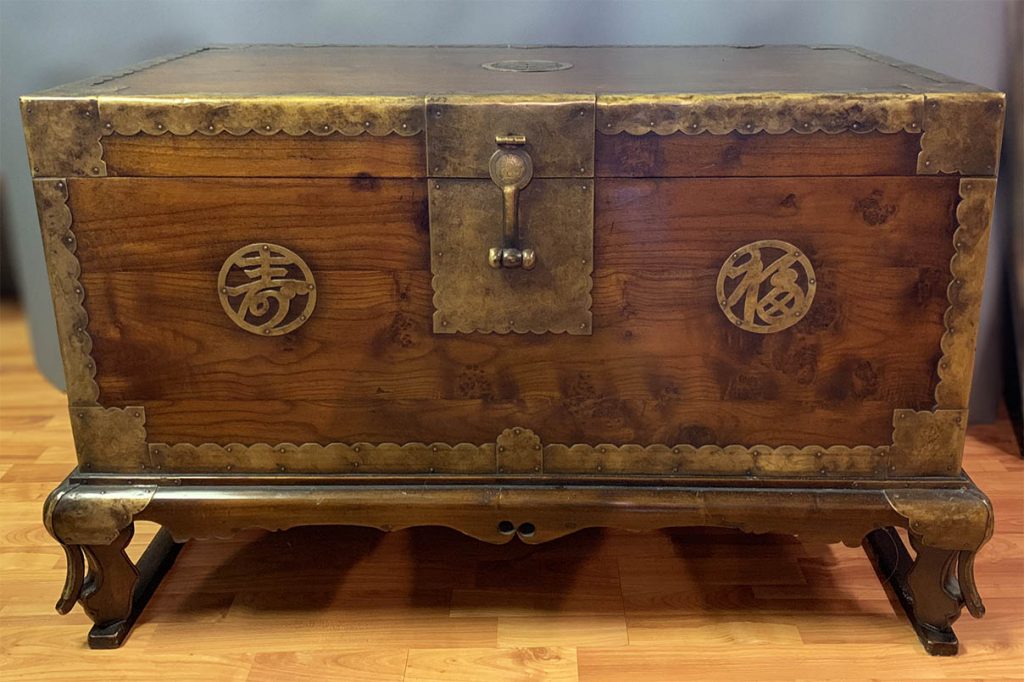 1880 (Yi Dynasty); cedar, brass fittings; found on Kangwha Island, Korea       42″ w x 24.5″ d x 27″ h
This magnificent chest, with incised brass-work 'par excellence", was found after the Japanese Occupation on Kang Wha Island, a political prison colony for the Kingdom of Korea for two thousand years.  It was recovered after the war by a missionary doctor who went to the colony to treat the sick and the dying.  The amount of outstanding brass-work on it indicates it was a wedding chest belonging to someone of very high status, likely a member of the royal family.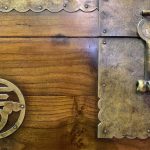 The brass medallion on the top of this chest has the  Chinese character wishing the receiver "happiness" and those on the front meaning "long life" and "fortune", all motifs pointing to the chest given as a wedding present for the bride to store her wedding gifts and clothing.  The heavily incised brass-work bounding the edges of the chest, the lock-plate and corner brass plates with the "ruyi" symbol (grant wishes) at one end, and the unique brass-work in the image of an elephant with tusks (long life) over curvaceous carved legs all point to this chest being very special, not for any commoner.  Political prisoners, among them many members of the royal family, could take their personal belongings with them in exile because in that era furniture was not valued by the elite class.  The scholar/official elite class favored antique vases, calligraphy, scrolls and paintings.  This trunk is probably one of the most beautiful wedding chests to come out of Korea.  It survived in excellent condition and was certified as rare by one of only thirteen certifiers approved by the government in the 1900s.
Price: Enquire for details