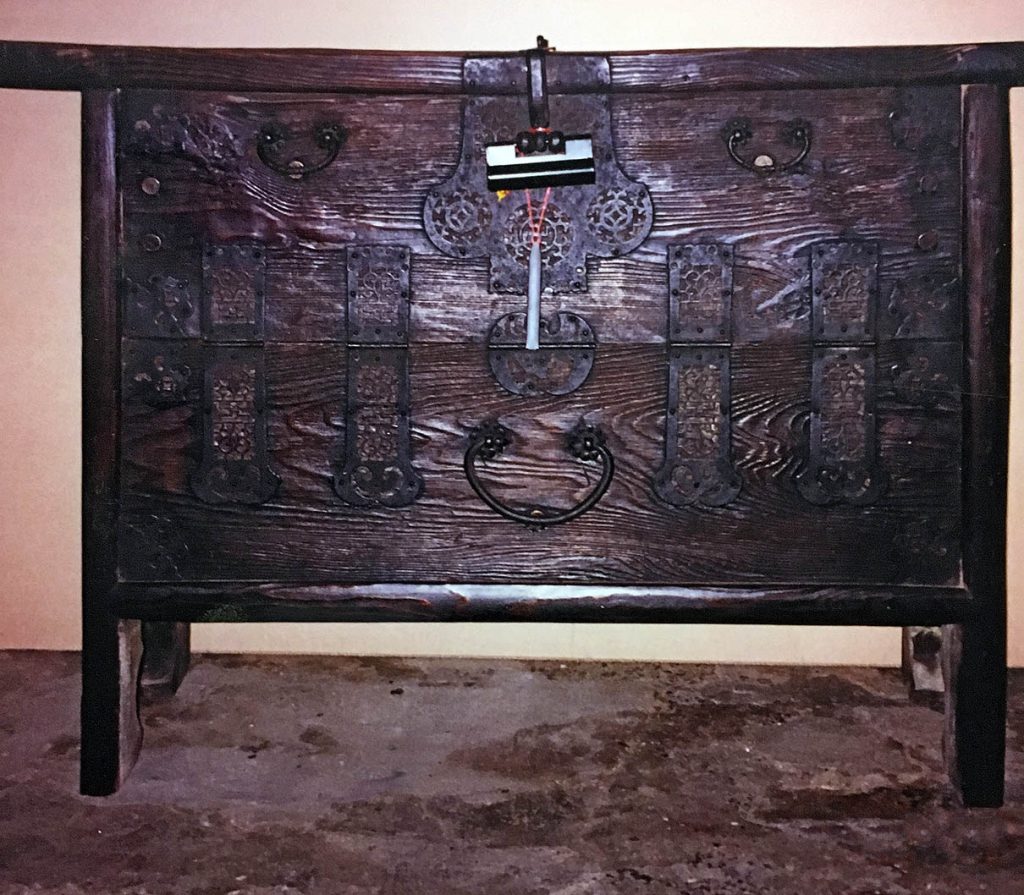 1850 or earlier, Zelkova with dragon image grain-pattern (Dragon-wood), Kangwha Island, prison colony for the Kingdom of Korea for two thousand years.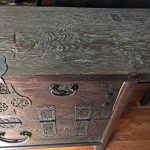 This magnificent chest was discovered on Kangwha Island after the Japanese Occupation by an esteemed American missionary doctor who went to the prison to treat the sick and the dying.  He was allowed to take this chest away as furniture was not valued by the government at that era.  The chest was made for a scholar, a member of an elite class, who found disfavor at Court and was sent into exile on this prison colony.
Dragon-wood was the highest prized wood in both Korea and Japan as the dragon signifies a heavenly king.  The iron metalwork is all hand-made.  Each piece is beautifully and artistically carved from a thick piece of metal the thickness of it is hardly ever seen on furniture made today.  The motifs are all age-old ones, conforming to the taste of the elite literati of the time, the scholars and high officials who were adherents of Taoism and Buddhism.  The use of the humble iron and overall somber color of the piece is exactly what they want.  The chest was certified by a Korean Professor of Korean History and Antiquity, one of only thirteen appraisers approved by the government in the 1900s.  This chest, with such magnificent dragon-image grain pattern, is very rare and deserves to be in a museum.  In fact, it would have been in one had we not just bought it ahead of a museum antique expert.
Price: Inquire