1880.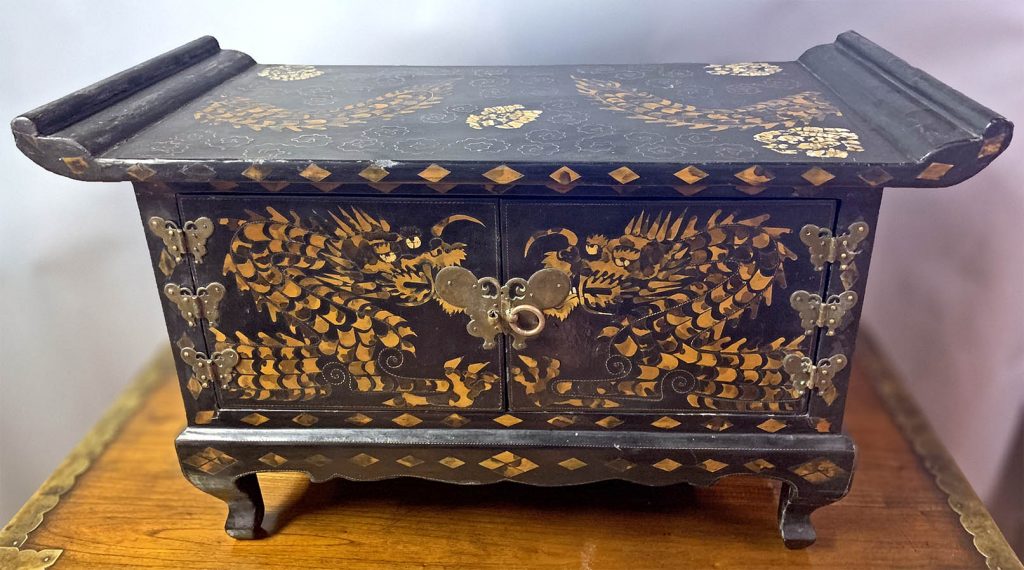 1880, mother 0f pearl, pear wood, brass, silk lining, Kangwha Island.  30″w, 14″ d, 18.5″ h
This beautiful little table was found on Kangwha Island, a political prison colony for the Kingdom of Korea for two thousand years.  It was found after the Japanese Occupation.  Double dragons motif on furniture is very rare. A five claws dragon is the insignia for a king.  A four claws dragon was the insignia for a nobleman.  This writing desk with four claws dragon probably belonged to a high ranking nobleman or member of his family.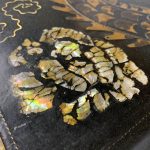 On this desk, the eyes of the dragon and decorations on the sides and the top are inlaid with mother-of-pearl and the pear wood makes up the scales of the dragon, with some diamond designs in the background.  The lock-plate and door hinges in the design of a butterfly are made of brass.  A butterfly motif signified happiness and a blissful life. The inside of the desk is lined with silk.  The ornate decorations make it likely instead of the nobleman himself, it was his lady who got sent into exile.  The top panel has everted ends like that of an altar, so this desk probably also served as an altar table supporting a Buddha or ancestral figure for worship.  The body of the desk is attached to a base with a curvilinear apron rounding down into short cabriole legs.  This is a majestic little box which could only have belonged in a palace.
Price: inquire