1880.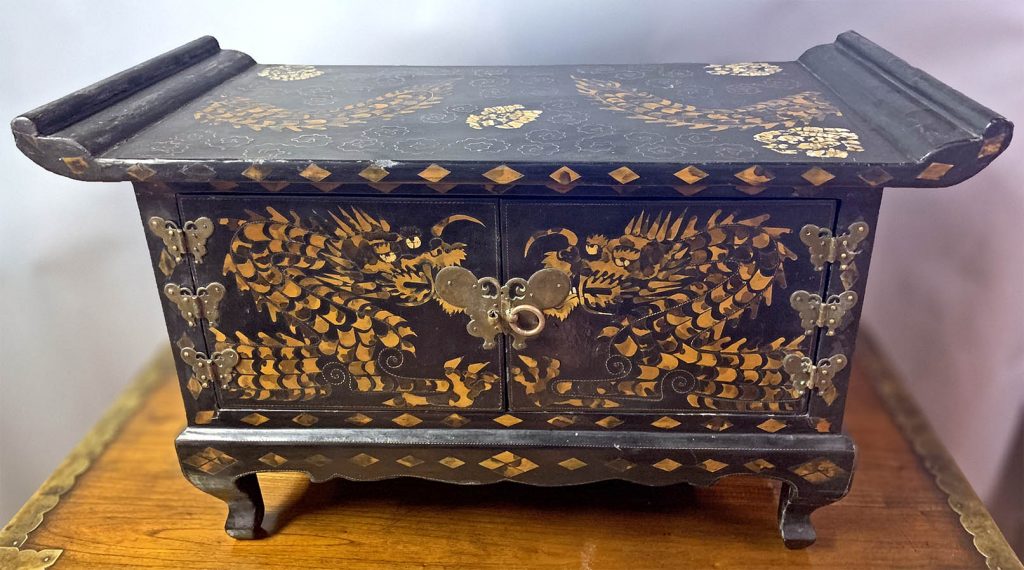 1880, Yi Dynasty; pear wood, mother 0f pearl, brass, silk lining; found on Kangwha Island after the Japanese Occupation; certified.  30″w, 14″ d, 18.5″ h
This magnificent little desk was found on Kangwha Island after the Japanese Occupation.  The island was a political prison colony for the Kingdom of Korea for two thousand years.  Double dragons motif on furniture is very rare.  A five claws dragon is the insignia for a king; a four claws dragon is the insignia for a nobleman.  This writing desk with four claws dragon would have belonged to a high ranking nobleman.
Chairs were not used in Korea until modern times.  The furniture was built low to accommodate persons seated on the floor.  This little desk is a splendid example of an essential piece of furniture for a Yi Dynasty gentleman.  The master of the house would sit on a large, thick, rectangular mat on the "ondol" (heated ) floor.  The low desk would be placed directly in front of him, and an armrest would be placed at his side.  His book chests would be arranged along the side wall.
The lines and proportions of this desk are extremely handsome.  It has a monumental presence belying its small size.  The upturned ends of the top give the impression that the desk is about to soar into flight, echoing the eaves of traditional Korean houses.  On the desk-front, the eyes of the dragons are made of mother-of-pearl, the scales of the dragon of pear wood.  The brass lock-plate and hinges are in the shape of butterflies, symbolizing happiness and bliss.  The inside of the desk is lined with silk.    The main body of the desk stands on a slightly extended stand to balance the overhang of the top.  The subtle curves of the apron continuous down into short cabriole legs.  The front member of the extended top and the bottom of the body frame, as well as the front of the apron have the diamond design, symbolizing wealth.  The desk top has inlay of impressions of extended dragon's tail in pear wood and mother-of-pearl, set among cloud designs outlined in brass.  The cloud design signifies a wish for richness to rain down from heaven. The elaborate decorations made this a piece of furniture intended for someone of wealth and high status.
This piece is certified by a Korean Professor of History and Antiquities in the 1900s.  A small desk with upturned ends and "ruyi" design on drawers, made in paulownia wood is shown in a Brooklyn Museum catalog published in the late 1900s.  An antique furniture with rare double-dragons design and inlaid with mother-of-pearl and pear wood is far more valuable than one made of the common paulownia wood.  This low desk is then fit for a museum.
Price: Enquire