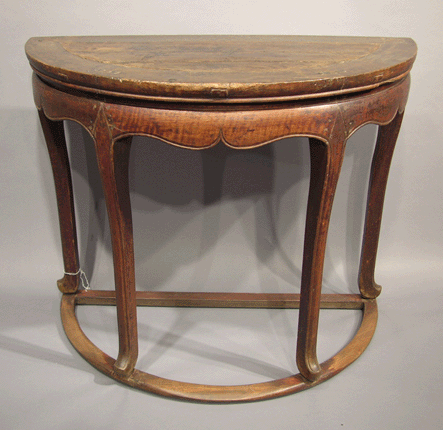 17th C, walnut, Shanxi. Pair shows classical simple and elegant Ming style. Walnut high price wood in China through ages.
33½" h. 41 " w. 20½ d.
Half-round tables are considered among some of the most beautiful furniture to come out of China.  Designed to be used together as a round table, or separate and positioned flushed against the wall.  They were often used as bases for ritual objects in a temple, or found in the central hall of elite homes to show off a sculpture or a wall-hanging above.
These tables are of high-waisted style.  They are constructed in the traditional mortise-and-tenon method, with tenons showing at the top and side of the top panel.  The perimeter edge of the top frame is shaped with a "water-stopping" molding and edged with pronounced beading at the bottom.  The top houses several board panels in a floating panel style, supported underneath by three transverse braces.  The waisted form is fitted with an arched apron with a pronounce cusp at intervals and beading at the hemline which continues down the sides of cabriole legs.  Wooden nails are shown pinning the 'sword-ridge" molded ends of the four cabriole legs to the apron and transverse braces underneath.  The graceful cabriole legs terminate in hoof-feet standing on a semicircular base stretcher.  Original dark lacquer is faded a little on the table top, otherwise the pair is in excellent condition.  This pair's simple elegance makes it easy to fit in any décor, traditional or contemporary.
Walnut has always been considered a quality and valuable wood in China, and was sought for crafting high-quality furniture by the literati of the early period.  In a publication about traditional Chinese furniture, the guru of Chinese antique furniture, Wang Shaoxing, noted that early walnut furniture sourced from the Greater Shanxi region generally demonstrates refined workmanship and is extremely rare.  This pair of elegantly styled half-round tables has the outstanding characteristics of simplicity, dignity, structure, and balance, qualities valued by Ming literati.
Price: Please enquire