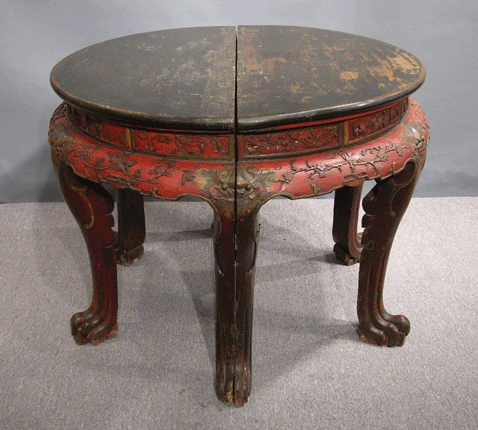 18th Century. (Mid-Qing Dynasty)
Camphor wood
Hunan Province
Designed to be positioned together to form a round table or placed flushed against the wall, half-moon tables are considered some of the most beautiful pieces of Chinese furniture. In the central hall of the more elite homes, each half would flank an ancestral altar table. These tables usually have cabriole legs. Their elegant profile makes these pieces some of the earliest furniture to be snapped up by antique dealers and collectors around the world. This pair is among some of the most beautiful to come out of China. That it is all original with the black and red lacquer intact makes it most desirable.
These half-tables are very well-built, with braces below the solid top. The elaborately carved cabriole legs ending in clawed feet is of a style often seen in elegant European furniture and is often attributed to the information exchanged throughout the Silk Road, opened up to foreign adventurers and merchants by Marco Polo. In a way, this style of table is the fore-runner of the very expensive clawed-feet furniture that now graces many elite European and American homes.
The table has a traditional high waist which is divided into panels decorated with relief carvings of sceneries and figures. The flared apron below has beautiful floral relief carvings, complemented by a finely carved, once multi-colored, gilded dragon head at the top of each of the six cabriole legs.
A pair of half-moon tables like this is quite impossible to find in China and perhaps not allowed out if found any more as China has just become the largest economy in the world, only behind the USA, and is trying to restrict the outflow of good antiques. The rich Chinese are actually spending a lot of money to buy back furniture that once graced elite homes. This pair might now worth several times over what is priced here.