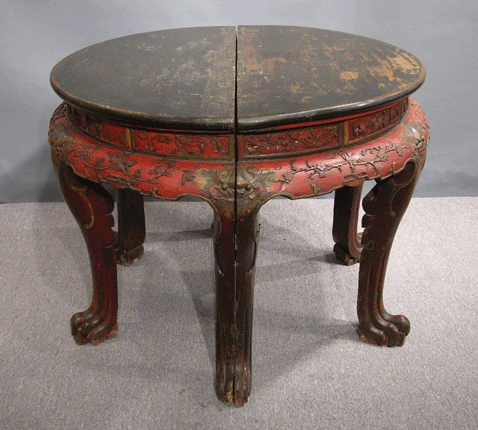 17th/18thC, Camphor, Hunan.  Rare five-claws dragons cabriole legs; designed for the elite; graceful  central hallway table in reception hall.  44″ d, 33″ h.
Half-round tables are said to be some of the most beautiful furniture to come out of China.  This pair, with long graceful cabriole legs ending in pronounced five claws feet and beautiful relief carvings on the high waist, is certainly an excellent example.  It was designed to be positioned together to form a round table to be placed in the center of a reception hall, or placed flushed against the wall flanking an ancestral altar table.  The style perhaps influenced the development of the very expensive clawed-feet furniture that now graces many elite European and American homes.
The top of each half-table is constructed from a thick slab of camphor wood with a "water stopping" molded edge.  The surface retains most of its thick black lacquer finish, which is crazed with fine "snakeskin" crackle.  The high waist on each table exhibits five decorative panels with relief carvings.  Three panels in the middle show carvings of lifestyle of the elite class at play, with carvings of seasonal flowers and birds on the panel on each side.  The flared apron below the waist has trailing floral relief carvings edged with gilding.  This apron with undulating gilded beaded edge is complimented by a carved lively gilded dragon head at the top of each of the six cabriole legs which end with five claws.  A five claws dragon design was usually reserved for the royal palace , so this pair of half-round tables could have been made for a member of the royal family.  The cabriole legs style have been around China for centuries and might have influence the development of furniture style in Europe in the 18th century.  This pair of half-round tables with such beautiful relief paintings, cabriole legs ending with five claws dragon feet would grace any entrance hall of a mansion today.
Except for a little damage to the claws due to being stored in some damp government warehouse during the Cultural Revolution, these tables survived in excellent condition and display a wonderful patina.  Their provenance is Shanxi for they have never been outside China until they became part of our collection.  The age, style and design of the pair make it very rare and valuable.
Price: Inquire