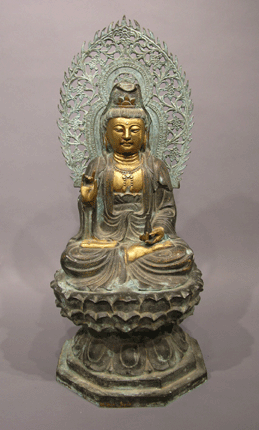 18th Century
Gilded Bronze
Hunan Province
24" H
This Guanyin is richly gilded all over, but is slightly worn and shows some burnt marks on her face, hands and feet, as well as on her clothing, likely through devotional handling in a temple in Hunan, but it is also possible the figurine was damaged during the Chinese Cultural Revolution, and later rescued from the temple. It was in the possession of a Chinese family before we were able to get it through a museum antique restorer.
This finely crafted figure is seated in dhyanasana ("Meditation" mudra"), with hands in abhaya ("Have No Fear" mundra, a raised hand with open palm forward), and varada mudra ("Giving and Granting" mudra, the gesture of offering material and spiritual gifts). When the hand is raised with the thumb and forefinger in the action of pressing together, it symbolizes wisdom and compassion, while the three raised fingers represent the triratna: the Buddha, the dhamma, and the sangha. With these mudra (hand position), the Guanyin is offering believers her help.
This Guanyin exudes an air of serenity and divine majesty. Her hair is pulled up in a high bun on top of her head, with the figure of a peacock perched on her bun. (A peacock is a royal symbol, here signifying spiritual importance). The hair shows some corrosion of the metal, exposing slight streaks of reddish color of the alloy in the metal. (Bronze is a mixture of copper and tin). She sits on top of an elaborately tiered lotus throne, upon rising lotus petals, finely lobed and tapering to elegant curling lips while increasing in size to allow a figure to sit in its midst. This throne sits on a gilded low drum which in turn sits on a band of stylized lotus petals on a wide circular base.
The Guanyin wears a robe which drapes around her shoulders, parted to expose her bejeweled chest, then cascades in voluptuous folds across her knees, exposing her gilt-bronze feet. Her robe is finely incised front and back with a scene of lotus flowers and leaves making their way out of bubbling water, from stems sprouting at the bottom of a pond. Tiny round air bubbles are scattered all over her robe. Such an exquisite design, almost like a scene from a painted scroll, is rarely seen on a robe worn by a Buddha figure. The lotus signifies Purity. She wears a string of pearls around her neck, which symbolizes Good Luck.
This figurine has an excellent patina, showing some blue tints on metal from oxidation of bronze alloy from aging. According to an article by the curator of the Phoenix Art Museum not long ago, antique Buddha figures are hard to find today as most are already in private collection or in museums. This one came from a private collector.