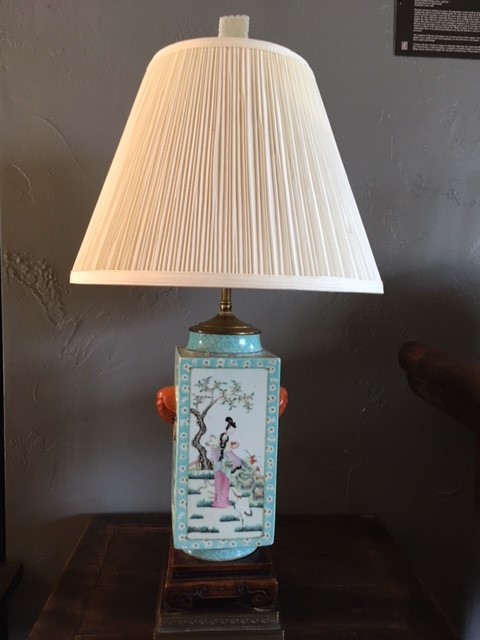 19th century, Qianlong period; lamp capped with white jade plaque carved with celebratory characters.  31.5″ h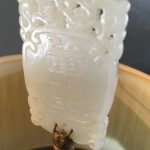 This lamp is made from a quadrangular porcelain vase  attributed to Qianlong period, when the famille-rose color palette was invented by the Jesuits in palace workshops.  The rectangular panels have a white glazed ground framed by a light blue-green band scattered with white petals.  Each panel either has enamel painting of a high official or a court lady, all richly dressed in famille-rose color robes, relaxing and enjoying the outdoors under colorful floating clouds, in a garden setting planted with grass, seasonal trees and flowers, and exotic garden rocks among which deer and crane roam.
The vase has a neck which sits recessed on the square shoulder of the vase, with the vase itself rests on a recessed round base.  These features are all enameled in a light blue-green color background decorated with brocade designs.  The shoulder is painted with colorful floating clouds and a bat at each corner.  These motifs symbolize good fortune, success, and happiness.  The vase has a pair of orange-hue handles in the shape of fu-dog head biting a ring.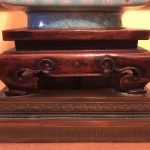 The vase sits on a square Chinese archaic style carved wood base with relief carvings of the cloud and "ruyi" motifs on its aprons, which curve gracefully into short cabriole legs.  This base is in turn mounted on a heavy two tiers European style bronze incised plinth to make sure there is no possibility the lamp would topple.  The  brass lamp post ends at the top with a big rectangular white jade plaque attached to it.  This jade plaque is carved with openwork running dragons at the top and bottom, and relief carvings of "double happiness", "long life", and "good fortune" Chinese characters in the middle on opposite sides of the piece.  With the presence of this valuable carved jade plaque, this lamp was likely a wedding present to a couple of importance.  The century-old jade piece alone is a collector's item.  The shade is not original.
Price: price on request