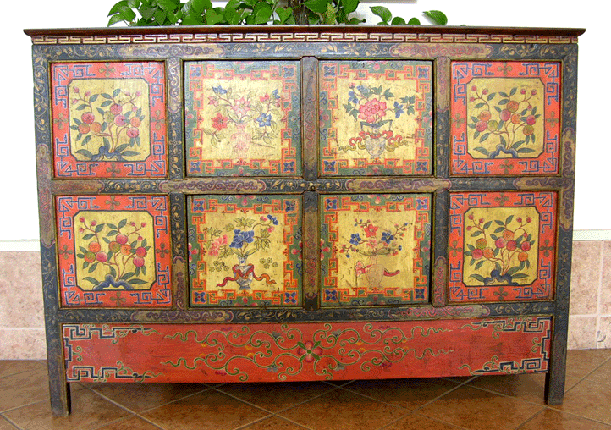 19th Century
Pine or Fir, natural mineral colors
65" w. 46.½" h. 19.¾" d.
Tibetan antique furniture is now quite rare and valuable because during the Chinese Cultural Revolution, it became "counterrevolutionary" to have painted furniture from the "old society" in one's home, so many pieces were vandalized: the faces painted over with enamel paint or left to blacken in kitchens or storage sheds. In the 1900's, some of these furniture reappeared, brought out by Llasa and Kathmandu dealers who acted as intermediaries and sold them wholesale "as is"; alternately they would clean them with nitro thinner and sold them individually according to market price. Although the thinner would not damage the original water- based pigments, it would leave opaque patches and dull the colors. This chest shows the attempt of a dealer to restore some disappearing color pigments on a couple of painted vases. Fortunately the attempt is minimal and the result should not devalue this chest, one of probably many that have survived a cultural revolution, with a story to tell.
This chest is original except for the top, which appears to have been replaced. A piece of furniture that has been in use for over a hundred years would, in all likelihood, have been repaired over the course of its life. That this chest is original is attested by the traces of grease from over a century of burning yak butter as fuel. This accumulated grease is very hard to remove on the wood surface and so some of the natural mineral colors on the paintings were rubbed off in the cleaning process. This is all part of its history. The color pigments on this chest are very vibrant and reflect the warm and cheerful character of the Tibetan people, and their love of flowers and nature.