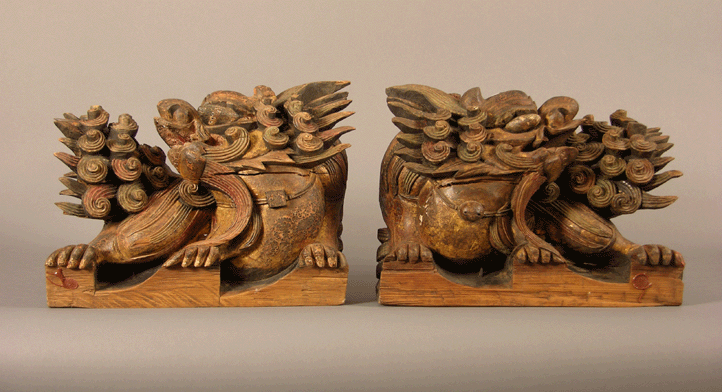 16th/17th century, elm or cypress, Shanxi.  Exquisitely deep carved, layers of natural pigments, gilded; rare, from Ming temple. 10½" h. 14½" w. 7½" d.
This pair of dragons is from a temple in China.  In temples, dragon figures signify as protectors of the Dharma (teachings of the Buddha).  This pair is more rightfully called Fu-dogs (protector of the god Fu), or Lion-dogs because of the mane.  Like most temple furniture and decorative items of that period, the pair was originally painted with at least five mineral pigments and gilded.  The gilding and colors have faded but still quite evident.  The pair looks fierce and the deep carving is superb.
Old temple decorative carved items, religious figures and offering vessels have become quite rare because they were the first relics to be collected when China opened to the outside world in the 1990s.  Many temples were torn down so small decorative pieces could easily be sold to tourists.  Dragons or Fu-dogs were especially popular because they were always beautifully carved, painted or gilded, look full of energy and able to evoke such wonderful folklores.  They can be counted to look good in any room and make great conversation pieces.
Price: $5000 (pr)