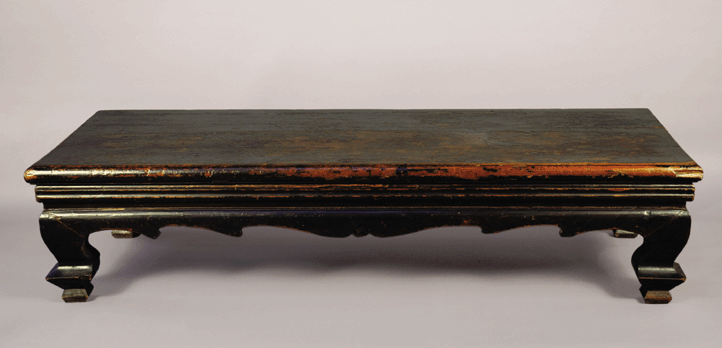 17th Century
Sophora wood (also known as Chinese Locust)
Shanxi
15½" h. 69" w. 28½" d.
Sophora is a rare wood from a tree that grows mainly in northern China. The wood resembles northern elm (Yumu) except that, with Sophora, the grain is more coarse and it is much more dense, hard, and strong because the tree grows extremely slow, only about an inch a year. Aside from its noted density, it is naturally resistant to moisture and insect damage. Due to these wonderful qualities, it was the wood of choice for furniture construction during the Yuan (1279-1368) and Ming (1368-1644) dynasties. Unfortunately, the heavy use of this wood caused its eventual demise as building material by the end of the Ming period. So, any furniture made of Sophora is construed to be from that early period. Not many woodsmen today even know about this rare wood. Chinese history has recorded that the last Ming emperor hanged himself on such a tree when he realized that he was about to lose his kingdom. ("Imperial Peking. Seven centuries of China", by Lin Yutang, Crown Publisher, N.Y.)
This small daybed (suitable as a coffee table today) exhibits a traditional classical style. It is remarkably heavy due to the dense construction material. The wide top is fitted with a panel comprised of two thick boards with arched edges. Below it the waist has two distinct sections. The upper section has decorative protruding double-incense stick molding while the lower narrow section plain and recessed. The aprons arch slightly outward and are shaped on all sides to a lively, curvilinear line with cusps and arches, then curved into the legs with a generous radius. The legs terminate in graceful "praying mantis" feet.
The top panel of the table displays big boss-head nails, a decorative feature often found on Yuan and Ming furniture. This remarkable daybed/coffee table survived with its dark lacquer finish intact. The building material, age, and condition make this a rare piece.