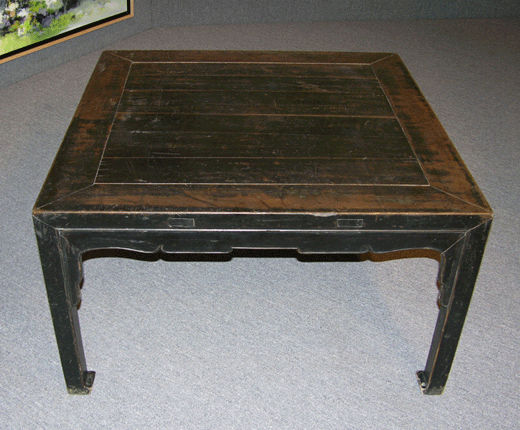 Early 18th C. (Early Qing)
Elm
Henan
21" h. x 36" w. d.
This table is of the corner-leg style with minimal decorative carving on the beaded, cusped aprons, which curve a little way down the sides of the legs. A simple decorative style was a preferred style by scholars in late Ming and early Qing periods. The table top is made of several narrow floating panels, which allows for slight movement between seasonal shifts in the weather. The legs end in hoof feet.
A square low table was usually placed under a long tall altar table as extra space for offering vessels and ritual objects. It probably was also used in serving food and as a side table for displaying a vase of flowers.
This table is elegant in its simplicity. It retains much of its original dark color coating. The faded areas give it a wonderful patina.