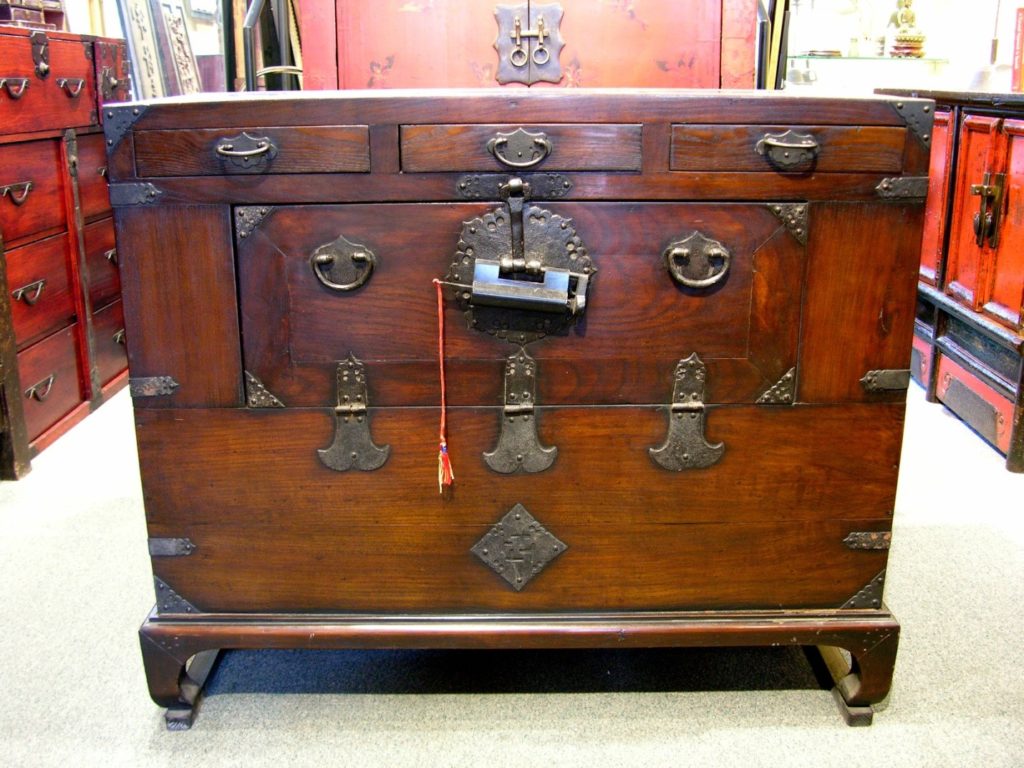 Ca 1870, elm, Cheon Chu City.  City known for high quality furniture; original thick sculpted metal decorations; certified.
33½" h. 40¾" w. 19" d.
Cheon Chu City is known to have some of the best furniture produced in Korea as this was where the land-owning Yangban class gathered to prepare to take an open Imperial Examination the passing of which guaranteed upward mobility.  This chest was made for a scholar of the elite class to be placed in the "saranbang" (main room used by the household head).  It is an unusual bandaji because bandaji means "half closing", characterized by having a full width door opening downward on hinges about half-way down the height of the front.  Here the door is small and narrow, opening out and downward in the center.  With also unusual placement of small drawers across the top of the chest instead of at the bottom, this chest would have been meant as a storing chest for the scholar to store his documents, manuscripts, reading material, scrolls and writing.  The decorative ironwork also shows the chest was built for an elite scholar.  The ostentatious round lock-plate is edged all-around with stylized "ruyi" (grant wishes) design.  Other decorative ironwork in front has hand-carved auspicious Buddhist symbols of the bat (happiness and prosperity) pull anchors, swallow tail hinges ( perseverance and success), and swatstika (eternal, long life) design at the bottom.  Iron was preferred by Confucius-time scholars for its quiet strength.
The chest rests on a raised base with short inward curving legs attached to side foot stretchers.  Except for some slight cracks in the back where secondary quality of wood was used, this authentic antique chest is in excellent condition.  It is certified by a Professor of Korean History and Antiquity, one of only thirteen approved by the government in the 1900s.
Price: Please enquire