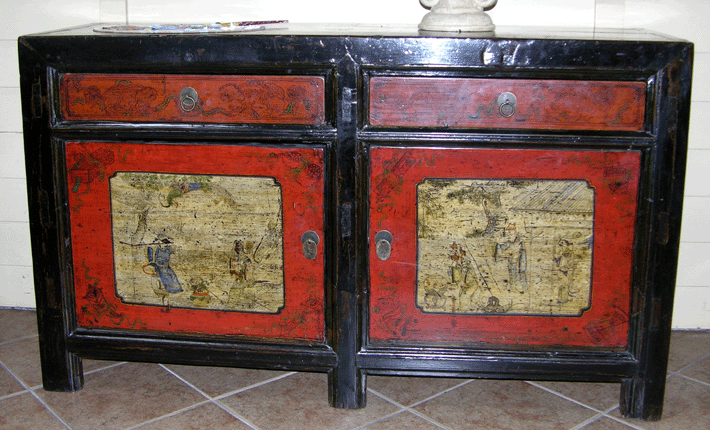 Late i800s
Pine
Inner Mongolia
32" h. 54¼" w. 18" d.
Constructed like two separate chests, this buffet has full interior storage. It features two recessed drawers, two pairs of doors, and beaded edges framing them. The top and frame members are covered with black lacquer. A narrow double frame in dark green surrounds the drawers and door panels. The paintings are in predominant color palette of ivory, muted greens and soft red, which is consistent with furniture of its kind from the northern territories.
The recessed drawers each depict two confronting snow lions, a religious animal associated with protection of the Buddhist faith. The door panels show paintings depicting Chinese official life, with various folklore symbols that in general tell of wishes for wealth, wisdom, aesthetic pleasures, longevity and health.
Originally a small panel opens at the top to allow for the rice, corn, or other grains to be stored. At some point, the front panels were pierced and the top panel sealed to provide better access to the interior to make a more functional piece of furniture.
Elements on the chest are faded due to aging, but that gives it a desirable patina.