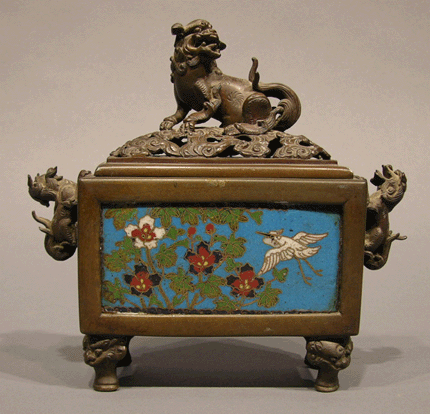 18th Century
Bronze and cloisonné enamel
7½" H x 8" W x 3" D
The rectangular-shaped incense burner is quite rare. It is made of bronze and has inserts of cloisonné enamel panels on two sides. It has a domed cover in the form of pierced clouds surmounted by a fierce-looking lion modeled in the round. This lion figure (sometimes referred to as Fu-dog, protector of the god Fu) is done with excellent details. Two lively little lions, done in equally sharp details, climbing the short ends of the burner, perform as handles. The burner is supported by four dragon-head legs.
The long sides of the rectangular box have inserts of cloisonné enamel panels decorated with scenes of flowers and birds. One panel shows a phoenix perched on a paulownia tree and the other a crane flying towards a peony bush. The enamel on these panels show tiny pits, which are formed by gas escaping from the metal during firing. This is a characteristic of early enamelware when the technique of firing was not perfected. Inside the box are two short wood rods stretching half way up the sides of the enamel panels, probably for the purpose of holding up a dish of incense.
Every sign displayed on this incense burner give evidence that it is an early rare piece and might have been possessed by some high official or scholar. It could also have been made for a temple. It is a serious collector's piece.