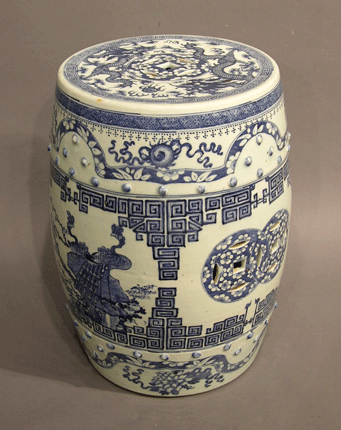 18th C. Qing Dynasty
Porcelain
19" h. 15" w. d.
The seat top has a pierced cash design in the middle surrounded by two sinuous four-claws dragons chasing a jewel among the symbols of clouds. It is bordered by a key-fret diaper.
The swelling body of the barrel is divided into three decorative parts set between raised bosses and double key-fret diapers. The wide middle sections is decorated with alternating designs of pierced double cash and pictorial designs of birds and flowers, one of a peacock with a cherry blossom branch and another of two song birds with the peony, signifying wealth and nobility.
The top section shows four of eight Buddhists emblems among a winding fillet scattered with cherry blossom petals, below a trellis-diaper and a bead-droplets diaper. The bottom section shows four more Buddhist emblems among a winding fillet with flower petals. This garden seat is in very good condition and is a collector's item