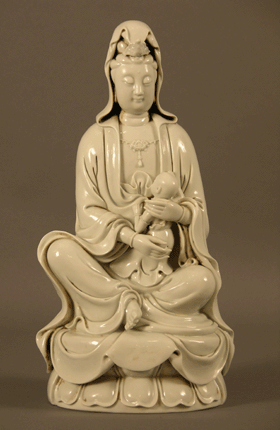 19th/Early 20th century
15½" h. 8" w. 7" d.
Guanyin is the Goddess of Mercy and Compassion. In China, she is also revered as the Protector of Women and Children. Here she is depicted seated on a lotus throne, with her arms drawing a small child to her side. Her eyes are downcast and her face bears a serene expression. She wears her hair drawn up in a high topknot, with a crown adorned with florettes centered by the image of the dhyani buddha, Amitabha. Her hair is covered by a shawl that cascades over her shoulders and down her sides.
This figure is crisply and thickly potted but with facial features and hands delicately executed. It is finished in a white glaze with a faint bluish tone. The back is incised with the gourd-shape Dehua (kiln) seal next to a square potter's seal with characters too faint to be recognized. It might be the seal of the 17th century, potter, He Chaozong, known in ceramic history as a master potter of Buddhist white porcelain statuary. His work is usually identified as thickly potted, as is shown by this statuary. Without proper authentication of the seals, we present this figure as an exquisite He Chaozong revival piece.