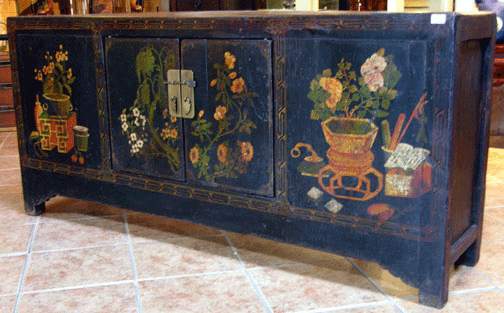 19th Century
Elm, original mineral colors
Gansu
27¾" h. 60½" w. 14¼" d.
The painting on this chest is all original, done with natural mineral pigments.
The panels in front show seasonal flowers arranged in antique vases, and also some "Attributes of a Scholar": a book, a brush for painting or calligraphy, brush-pot, ink-sticks and ink-pot. With these symbols and lacquer applied, this chest was clearly made for a scholar, a member of the elite class in old China.
There are some almost unavoidable cracks and minor restorations due to age, but on the whole, it has survived the Chinese Cultural Revolution well, with the paintings intact and the surface showing a wonderful patina. This is a charming piece for any room in a house.