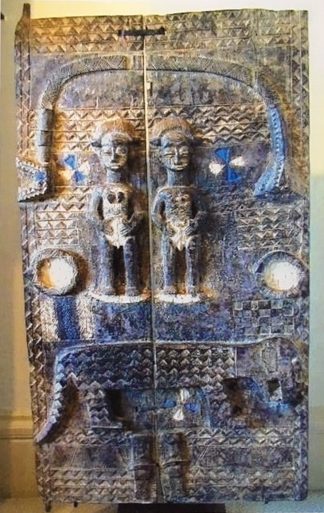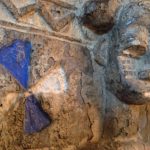 Late 19th/early 20th Century
Cameron/ Equatorial New Guinea in Western Africa
For centuries the Fang peoples of Cameron and Equatorial New Guinea have venerated their most important ancestors and made carvings of heads and figures to commemorate them and place them where fitting to serve as protectors.
This granary door is lashed together with leather strips and decorated with carved figures of ancestors to protect the food inside.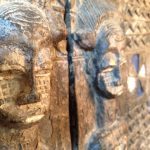 The figures are infant-like because the Fang tribe believes that children are closer to the spirit world than adults, therefore , many of their carvings represent figures that are infant-like in appearance. The figure's large head, long body, short knobby legs, protruding belly, and rounded features resemble those of a newborn baby to emphasize the clan's continuity with the three classes of Fang society — the living, the dead, and the yet to be born.
This door is a beautiful representation of Fang carving that has become a favorite of African carvings among Western collectors. It has survived in excellent condition, with a wonderful patina. It is quite rare.
| | |
| --- | --- |
| Detail | Detail |
Price: