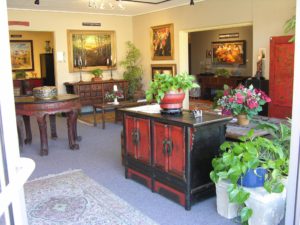 Our gallery specializes in unique Asian antique furniture collected as a result of our global travel in the 1990s, when exceptional pieces emerged in their native lands.  Our collection came directly from these countries.  We were interested in collecting unique antique furniture because such ancient pieces have a history, culture, and story to tell.  Our passion for quality and authenticity resulted in acquiring special pieces from Asian antique dealers who are experts and became not only our advisors but also teachers.
After collecting Asian antiques for over twenty years, we believe we have amassed one of the largest collection of unique furniture dating from Yuan, Ming to Qing Dynasties, as well as rare pieces from Korea and Tibet.  Many of our antiques are certified or can be authenticated by antique experts.
Our fine art is predominantly original paintings, with a few reproductions and bronze sculptures.  Our collection is from nationally and internationally known artists we met in International Art Expos and abroad,
We believe our eclectic collection of fine art and antiques not only gives buyers an opportunity to create a personal, warm, and welcoming interior in their homes, but can also offers a different slant on a modern interior that sometimes seems a little slick and shiny.  We believe the mixing of culture, style, texture, and color is a true modern and timeless looks and hope the buyers of our collection can achieve that goal.
Besides what we show online and will continue to show more, we have a large collection of unique pieces we would like to tell you about on inquiry.